

Pretty Love SNAPPY Vibrator with 30 Functions Waterproof RV-011
| | |
| --- | --- |
| Color | PURPLE |
| Total Length | 8 |
| Insertable Length | 3 inches |
| Dia | 4 |
| Material | SILICONE |
| Rechargable | NO |
| Wireless | NO |
| No. of Battery Required | 2 |
| Size of Battery | AAA |
| Vibrating | YES |
| Vibrating Mode | 10 MODE VIBRATION |
| Weight | 108 gms. |
| Imported From | U.K |
| Thrusting | NO |
Secure payment
Delivery & Return Policy

Privacy Policy
Snappy 30 Functions Rabbit Vibrator in Purple
Snappy by Pretty Love – My new secret weapon Its gentle head and feisty rabbit can stimulate both your G-Spot and your clitoris at the same time! Believe, here lies the difference with all the other toys. While some of them are way to big or badly shaped, this little baby is the perfect size to reach both your pleasure points. With 30 vibration modes, Snappy allows you to experience many different sensations. Sometimes both the rabbit and the head vibrate at the same time, sometimes they alternate, the speed and vibration patterns also change. A real delight! Steady vibrations can become a little boring, but with these many modes and two strong vibration motors, you'll find exactly what you need at the right time. However, since it's not as expensive as other toys, there are some things that you don't get: it's not waterproof (of course, you can clean it with water, but it shouldn't emerged in water), and it works with tripe A batteries, unlike many new toys that work with a charger or even a USB cable. But for this price, you can masturbate in your bed and steal the TV remote batteries
Our top selling best value for money silicone vibrator from our Pretty Love Premium range.
30 Function
Premium Silicone
2 AAA batteries (not included)
Pacific Design
Two Vibration Motors
The product is made from the best materials and has a silky feel in your hands. The unique design gives the ultimate visual and sexual pleasure.

Pretty Love Snappy 100% Silicone
Data sheet
Color

PURPLE

Total Length

8

Insertable Length

3 inches

Dia

4

Material

SILICONE

Rechargable

NO

Wireless

NO

No. of Battery Required

2

Size of Battery

AAA

Vibrating

YES

Vibrating Mode

10 MODE VIBRATION

Weight

108 gms.

Thrusting

NO

Imported From

UK
Customers who bought this product also bought:
Material: Silicone
Waterproof
NON VIBRATING
Color :: Purple
Length :: 14.0cm
Top diameter :: 1.4cm
Max diameter :: 4.1cm
HOLLOW
 This top choice dildo strap on vibrator includes a completely irresistible clit bumper delivering a stimulation experience second to none. A quality dildo strap on vibrator including powerful vibrations and a padded vagina shaped entry point for the ultimate ride. The hollow shaft makes it suitable for both male and female wearers.
LeLuv® 6.5" Vibrating Male Strap On
Key Features:
Firm, vibrating tip Hollow middle Give your partner the thick, throbbing penis they've always dreamed of Medium strap stretches from 26" to 50" (66 cm to 127 cm) Large strap stretches from 30" to 60" (72.6 cm to 152.4 cm) Boosts confidence Brings couples closer togethe
tion or simply want to give your partner an enormous surprise, this strap on is for you! The first 4 inches are firm for easy entry, but after that the veined shaft is hollow so you can place yourself inside and thrust as usual – only now you'll be packin' an enormous 6.5 inch love machine with a handsome 1.6 inch girth. The firm yet supple material is vigorously veined for a realistic and immensely pleasurable experience.
FEATURES
Ideal Sex Toy for                                :          Female and Male
Strap-On Harness Size                       :         Fits anything up to a 46" waist
Dildo Strap-On Vibrator Colour         :         Lustrous Purple
Dildo Strap-On Vibrator Material     :         Rubber
Dildo Strap-On Vibrator Functions   :       Multi-Speed Vibrating, Hollow Shaft
Dildo Strap-On Vibrator Length        :        8" Total - 6" Insertable
Dildo Strap-On Vibrator Circumference :              5"
Flexible Sex Toy?
Firm and Flexible
Length=8.5 inches

Insertable= 4.5 

inches

Dia=1.4 inches

Vibrator= Multispeed

Sound= Sexy

Material= Fully Silicone
16 other products in the same category:
If you have been looking for an elegant vibrator all these days, put an end to your search and bring home this Paula Rabbit Vibrator with Suction Cup. Powered with multiple vibration modes, it leaves its user with a magical feel of something quite sensitive to play with the genitals. With a host of safety features, Paula Rabbit Vibrator comes in a very stylish design, resulting in an unmatched experience for the one who uses it. What makes it more effective is its 7 different vibrating modes that will bring on seven different sensations on the sensitive female genitals. Also, it is 9.5 inches long and 1.5 inches wide that makes it a great penetrator.
Paula Rabbit Vibrator comes with a suction cup that makes it quite effortless in terms of functionality. It is USB rechargeable and operates on the basis of AA batteries. One can easily get it cleaned with some warm water and a cleaning agent as it is made of good quality silicone.
Product: Paula Rabbit Vibrator  
Category: Rabbit Vibrator
Material: Silicone
Size: 9.5 x 1.5 (L X W)
Colour: Purple
Function: Intended towards female masturbation and clitoral stimulation
Length=15.5 inches

Insertable= 6 

inches

Dia=1.4 inches

Vibrator= Multispeed

Sound= Sexy

Material= Fully Silicone
HIGHLY RECOMMENDED!! TRY IT!

Double Enjoy With This High Qulaity Silicone Vibrator

Ideal For Foreplay

30 Functions Of Vibration,Pulsation & Escalation

Silent And High Quality Vibrator Motor

Smooth, Unscented, Phalate Free

Easy Push Button

Use With Partner Or Solo

Easy To Use And Clean

With Refresh & Blood Circulation Function

Water-Proof Vibrator

Luxurious Body Safe Silicone

100% Silicone

Colour Not Fix

Free Battery Included
Elegant vibrator rampant in color lilac and white's unique quality that can offer a highly irresistible thanks to its rampant rabbit clitoral stimulation.

It will give you no doubt an unforgettable ride, at the same time that you enter inside you, making you even more deeply feel their vibrations, massaging your interior.

Pretty Love is synonymous with quality.
        It has 30 different vibration different impulses, making a perfect vibrator for you!
        Silicone 100% high quality FDA approved phalatos-free
        Ergonomic
        Very silent
        Submersible
Powered by two AAA batteries which are not included.
Dimensions: 20.4 cm x 3 cm.
Includes practical fabric pouch to store the product after use!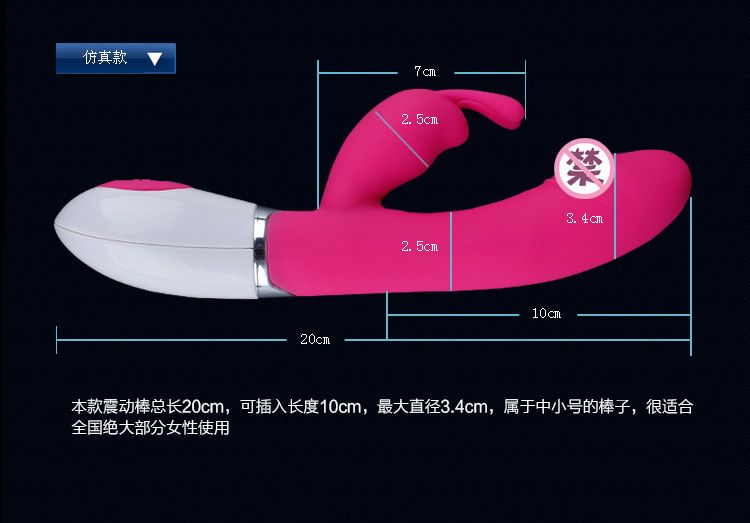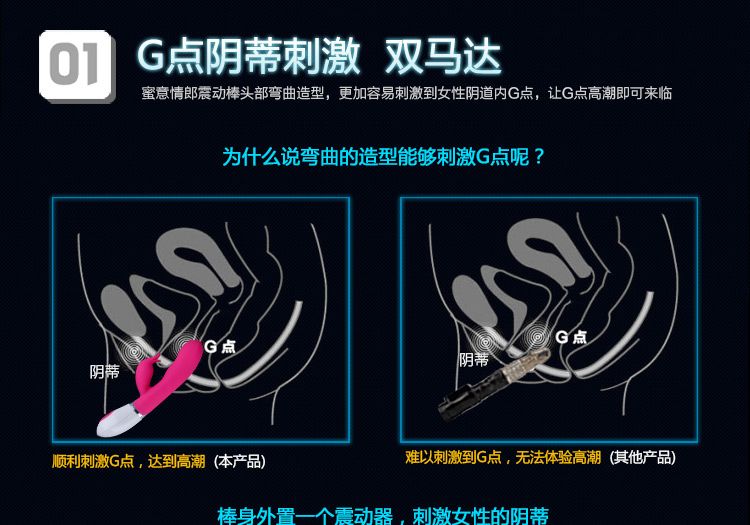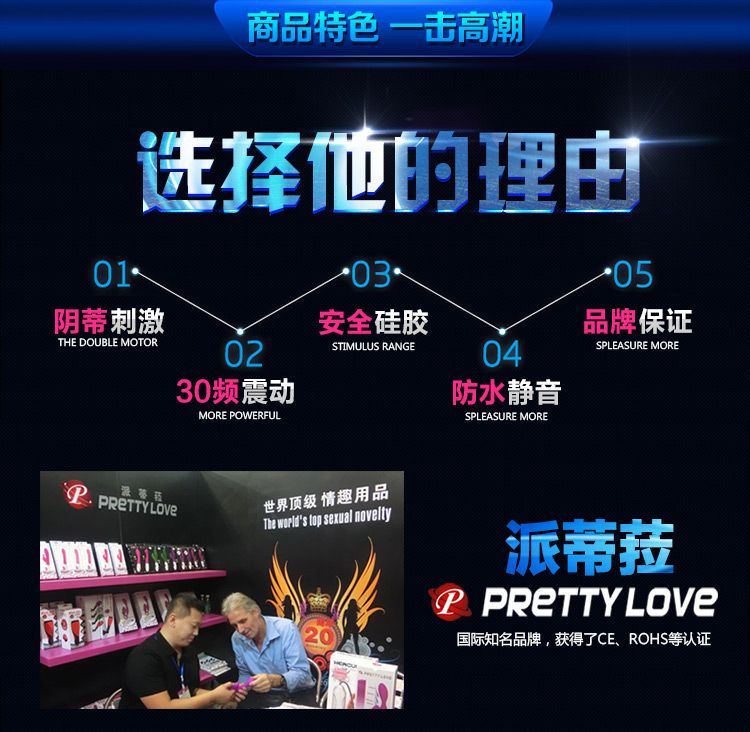 Description : Ai Fei Effie - rods .
  
Built-in high -quality motor 2 ,

520 mA high-capacity lithium battery ,

7 segment vibrate mode ,

160 days long standby

High-end gift box packaging,

The included USB charging cable, fine collection of bags.
Description : Black T Black T- transfer beads stick.

  Battery Version transfer beads stick

  Silicone material

  Quiet and efficient motor imports

  Three AAA batteries

  Three rotational frequency

  7 vibration frequency
Features:
.2 Piece Set: Clitoris Brush and Breast Stimulator
.These unique attachments will turn your wand into a versatile and impressive tool to explore and discover new sensations
.Each attachment comes with its own unique shape, allowing for stimulating your chest,G-Spot, clitoris and other hot body parts
.Clitoris Brush is perfect for stimulating G-spot and clitoris at the same time, you can use it with AV stick or jump eggs
.Breast Stimulator with dual head design can be better to pat your breast or other right erogenous zone
.Different shapes have different stimulation feeling, special design for female
.Simply attach these sweet attachments to your favorite Mid-size massager wand and place it in the area you wish to stimulate for a thrilling ride indeed!
A pure silicone outer body and stylish ergonomic design makes this the most beautiful and attractive of products.
Even more impressive, the touch sensitive control gives you the ability to command the intensity of vibrations.
Customize the vibration patterns using the touch responsive panel for tailored G-spot stimulation. Simply press and hold the 'Middle' button during any setting to switch your vibe from standard controls to the touch setting.
This Alvin rabbit vibrator has a curved, bulbous head to massage your G-spot and rabbit vibrator for clitoris stimulation.
Hygienically superior medical grade silicone.
Highly imaginative & ergonomic design, quiet yep powerful Rabbit vibrator 3 speeds vibrating, 3 speeds pulsating and 1 speed escalating and easy to use touch buttons.
Whether you are single or a couple, this rabbit vibrator will quickly become your favorite playmate.
Plus:
Easy to use
Easy to clean
Hypoallergenic
100% medical grade silicone
For comfort always use a lubricant and remember to clean your sex toy before and after each use with our antibacterial cleanser and disinfectant for erotic accessory Sensations Plus, when sensuality means safety!
Characteristics:
Material: 100% silicone and ABS
7 modes of vibration of vibration 3, 3 pulses, one that intensifies
Latex free
Phthalate Free
Hypoallergenic
Scentless
Waterproof Waterproof
Length: 24cm, length
Penetrating 14 cm
Diameter: 3,7 cm
Available colors: fuchsia
Rechargeable with USB wire
Articles fabricated silicone should not be used with silicone lubricants.
For obvious reasons of hygiene, all products coming into contact with the intimate parts can be a return if the packaging is opened and / or unsealed.
Features:
1,3 Layer Tongue Lick,2800 times/minute,to stimulate clitoris
2,Vibrator has 7 kinds frequency, stimulating G point, adding more fun.
3, soft, smooth fleshy material, made of safe silicone
5,Bass design, less than 40 decibels
6,Intelligent constant temperature 42 ° C
7,The vibrator is extensible in 30mm, to simulate real Penis
Specification:
1. Connecting the computer with a USB cable, or using power bank, or using the USB port of the mobile phone to charge.
2,Can not be used during charging, please unplug the power after Fully charged, and then use.
Due to the light and screen setting difference, the item's color may be slightly different from the pictures.
Please allow slight dimension difference due to different manual measurement.
​
one English
 i
nstruction manual
In order to protect your privacy,we promise send your products in a secret condition,the packaging will be a box or a sealed bag without any pictures and words about sex.
Pls give us 5 stars positive feedback if everything is fine, pls contact us if andy question if any problem, we will solve for you.
Length=6.5 inches

 

Dia=1.2 inches

 

Vibrator= Multispeed

 

Material= Fully Silicone

Product Description

 

 

 

A. Product Descriptions:

 

sex products on-off button easy control realistic dildo vibrator adult toys cock sex toy for women easy operation adult novelty sex product sex toy.
Have an awesome time with the most seductive rabbit you have come across by using this Pretty Love Dean rabbit vibrator. Designed to stimulate your genitals, it sports a modern design that would impress any women on its first look. High on eroticism, it would do a great job, whether you wish to go for a solo or foreplay. Believe it or not, this would be a new addition to your collection of adult products.
Have a look at some of its features:
·         Made of good quality silicone
·         Multiple settings
·         Hassle-free operations
·         Shaft enabled
·         Purple in colour
·         Powerful motor
·         2 AAA batteries
·         Light in weight
·         Compact in size
Pretty Love Dean rabbit vibrator can be cleaned and maintained for years to come. Any woman wanting to get naughty with herself will find it a smarter choice among other female products. Without any second thought, go for it now at a reasonable price online and perform like a champ on bed.
Have a look at this modern Pretty Love Rabbit Vibrator and tickle your genitals in the best manner like you never dreamt of. Incredible in terms of sensations, t would complement your foreplay or solo, whichever you choose to go with. Pretty Love York rabbit vibrator would surely be a trendy addition to your compilation of sex products and would bring on happy times for girl during her lonely hours.
Have a look at some of its features:
·         Made of good quality silicone
·         Multiple settings
·         Hassle-free operations
·         Shaft enabled
·         Purple in colour
·         Mute design
·         Powerful motor
·         2 AAA batteries
·         Light in weight
·         Compact in size
What's best about Pretty Love York rabbit vibrator is its hassle-free maintenance. Just take some water and mild detergent and you will be able to clean it with no effort at all. You can now purchase it at a very economical price online and thereafter take your daily performance to a new level.
tem Description
This is Vibration and Rotation Massager, which is essential for finding the G-spot to reach orgasm quickly. It can realize the sexual desire for women.Features: * G-Spot vibrator, vibration and rotation massager * An ideal product to meet women's sexual demands * Material: ABS + TPR * Length: 18cm * Width: 3.5cm * Battery: 2 x AAA batteries (not included) * Color: random color Package includes: * 1 x G-Spot Vibrator 19957
If you are in search of the latest vibrator in the collection of sex toys for women, this Dual Stimulator Curve Seduction Vibrator will now give your genitals a pure seductive treatment. Having a patterned body carved out with branches, this clit vibrator is pink in colour and sensational in producing stimulations on the vagina. If orgasm has been worrying you too much, this new-age vibrator will be the smartest solution. You will have a swifter climax to reach and the performance will be so satisfactory.
Dual Stimulator Curve Seduction Vibrator is made of good quality silicone and ABS that not only make it free of toxic chemicals but also add a soft touch to it. Moreover, it has a long length of 18.3 cm while it is 3 cm wide. Two AA batteries are required to power up the device.
Product: Dual Stimulator Curve Seduction Vibrator
Category: G-spot vibrator
Material: Silicone
Colour: Pink
Size: 18.3 x 3 cm (L x W)
 Vibration speed can be adjusted with the remote you are available .
Super Strong Vibrator has a length of 14 cm by 11 cm circumference of a circle . Easy in use , washed / cleaned, Use 2 AA batteries.
When it comes to choosing a vibrator, you always tend to choose the one that would give you sensations completely unmatched in comparison to what you had earlier got in your solo sessions. Lena Rabbit Vibrator comes with a similar promise for girls who would love using it. Pink in colour and very stylish in design, this advanced rabbit vibrator is made of silicone that makes it skin-friendly and smooth to use as well. 6 inches in length and 2.5 inches in width, it stands as a perfect erotic gadget for clitoral stimulation. As it comes with a vibrator attached, it runs on two AA batteries. Some warm water and a cleaning agent will do a good job in cleaning it.
Product: Lena Rabbit Vibrator
Category: Rabbit vibrator
Material: Silicone
Colour: Pink
Size: 6 x 2.5 inches (L x W)
Special feature: Comes with a vibrator attached for more stimulation 
Item Type:

Vibrators
Brand Name:

Sexy Candy Shop
Material:

food grade silicone
Size:

10 speed
Model Number:

vibrators for women -dgzzq02
power supply::

2 AAA bateries
hardness::

Perfect balance between hardness and softness
Color::

pink and blue
G.W: :

100g
Number of vibration modes::

10
Type::

Female Vibrator
 

10 Function Dual Vibrators With Rabbit Clitoris Stimulate Penis Sex Toys For Couples And G-spot Rolling Dildo Vibrador For Women

Type: Female Vibrator

Number of vibration modes: 10

Waterproof: Splash waterproof

G.W: 100g

Intensity: Adjustable

Control: LED controller

Power supply: 2 AAA batteries (not including)

Color: Pink and blue

Material: Food grade silicone

Hardness: Perfect balance between hardness and softness

we will not send the original box for saving the shipping weight, if you need box you need to click here to buy: original box