

Jack Rabbit Mini Vibrator RV-009
Secure payment
Delivery & Return Policy

Privacy Policy
Length=8.5 inches

Insertable= 4.5 

inches

Dia=1.4 inches

Vibrator= Multispeed

Sound= Sexy

Material= Fully Silicone
Customers who bought this product also bought:
Material: Silicone
Waterproof
NON VIBRATING
Color :: Purple
Length :: 14.0cm
Top diameter :: 1.4cm
Max diameter :: 4.1cm
HOLLOW
 This top choice dildo strap on vibrator includes a completely irresistible clit bumper delivering a stimulation experience second to none. A quality dildo strap on vibrator including powerful vibrations and a padded vagina shaped entry point for the ultimate ride. The hollow shaft makes it suitable for both male and female wearers.
LeLuv® 6.5" Vibrating Male Strap On
Key Features:
Firm, vibrating tip Hollow middle Give your partner the thick, throbbing penis they've always dreamed of Medium strap stretches from 26" to 50" (66 cm to 127 cm) Large strap stretches from 30" to 60" (72.6 cm to 152.4 cm) Boosts confidence Brings couples closer togethe
tion or simply want to give your partner an enormous surprise, this strap on is for you! The first 4 inches are firm for easy entry, but after that the veined shaft is hollow so you can place yourself inside and thrust as usual – only now you'll be packin' an enormous 6.5 inch love machine with a handsome 1.6 inch girth. The firm yet supple material is vigorously veined for a realistic and immensely pleasurable experience.
FEATURES
Ideal Sex Toy for                                :          Female and Male
Strap-On Harness Size                       :         Fits anything up to a 46" waist
Dildo Strap-On Vibrator Colour         :         Lustrous Purple
Dildo Strap-On Vibrator Material     :         Rubber
Dildo Strap-On Vibrator Functions   :       Multi-Speed Vibrating, Hollow Shaft
Dildo Strap-On Vibrator Length        :        8" Total - 6" Insertable
Dildo Strap-On Vibrator Circumference :              5"
Flexible Sex Toy?
Firm and Flexible
Snappy 30 Functions Rabbit Vibrator in Purple
Snappy by Pretty Love – My new secret weapon Its gentle head and feisty rabbit can stimulate both your G-Spot and your clitoris at the same time! Believe, here lies the difference with all the other toys. While some of them are way to big or badly shaped, this little baby is the perfect size to reach both your pleasure points. With 30 vibration modes, Snappy allows you to experience many different sensations. Sometimes both the rabbit and the head vibrate at the same time, sometimes they alternate, the speed and vibration patterns also change. A real delight! Steady vibrations can become a little boring, but with these many modes and two strong vibration motors, you'll find exactly what you need at the right time. However, since it's not as expensive as other toys, there are some things that you don't get: it's not waterproof (of course, you can clean it with water, but it shouldn't emerged in water), and it works with tripe A batteries, unlike many new toys that work with a charger or even a USB cable. But for this price, you can masturbate in your bed and steal the TV remote batteries
Our top selling best value for money silicone vibrator from our Pretty Love Premium range.
30 Function
Premium Silicone
2 AAA batteries (not included)
Pacific Design
Two Vibration Motors
The product is made from the best materials and has a silky feel in your hands. The unique design gives the ultimate visual and sexual pleasure.

Pretty Love Snappy 100% Silicone
16 other products in the same category:
When it comes to choosing a vibrator, you always tend to choose the one that would give you sensations completely unmatched in comparison to what you had earlier got in your solo sessions. Lena Rabbit Vibrator comes with a similar promise for girls who would love using it. Pink in colour and very stylish in design, this advanced rabbit vibrator is made of silicone that makes it skin-friendly and smooth to use as well. 6 inches in length and 2.5 inches in width, it stands as a perfect erotic gadget for clitoral stimulation. As it comes with a vibrator attached, it runs on two AA batteries. Some warm water and a cleaning agent will do a good job in cleaning it.
Product: Lena Rabbit Vibrator
Category: Rabbit vibrator
Material: Silicone
Colour: Pink
Size: 6 x 2.5 inches (L x W)
Special feature: Comes with a vibrator attached for more stimulation 
Till now if you have used only ordinary rabbit masturbators, you are sure to be left thrilled with this exclusive Jelly Fun Female Rabbit  vibrator. What makes it stand out among others is its jelly-like body that has been designed to bring a soft touch to the female genitals. Suppler and softer than typical masturbators, this jelly rabbit masturbator will take almost no time for your vagina to lubricate and heighten your erotic pleasures with its vibrations. Made of good quality PVC, it is absolutely durable and free of toxic chemicals. Furthermore, it is easy to clean with soap and warm water.
Product: Jelly Fun Female Rabbit  vibrator
Category: Rabbit Masturbator
Function: Satisfies the female genitals through vaginal penetration and makes one ready for the climax on bed.
Material: PVC and Silicone
Colour: Grey and Purple
Size: 9 inches in length and 5 inches in breadth
What a woman craves in bed while getting intimate with her partner are wild clitoral stimulations, and unless this happens, she can never really feel satisfied. To ensure this, here comes an incredible sex toy in the name of Clitoral Quest Rabbit Vibrator. Equipped with a stylish design, this remarkable rabbit vibrator is black in colour, made of pure quality silicone and is soft enough to let the user enjoy long solo sessions. 9 inches long and 2.6 inches wide, this rabbit vibrator is absolute safe for the skin. The vibrator attached is quite powerful as it lets the user stimulate her genitals to a good extent. It is powered by three AAA batteries. Clitoral Quest Rabbit Vibrator is quite affordable and can be bought online at the most economical price.
Product: Clitoral Quest Rabbit Vibrator RV-035
Category: Rabbit vibrator
Material: Silicone
Colour: Black
Dimensions: 9 x 2.6 inches (L x W)
Length=6.5 inches

 

Dia=1.2 inches

 

Vibrator= Multispeed

 

Material= Fully Silicone

Product Description

 

 

 

A. Product Descriptions:

 

sex products on-off button easy control realistic dildo vibrator adult toys cock sex toy for women easy operation adult novelty sex product sex toy.
 Vibration speed can be adjusted with the remote you are available .
Super Strong Vibrator has a length of 14 cm by 11 cm circumference of a circle . Easy in use , washed / cleaned, Use 2 AA batteries.
To enjoy G-spot stimulation at its best, here comes a modernized adult gadget brought to you by
Evo. Having a realistic design, this EVO Nina rabbit vibrator is purple in colour and is designed to give
women real stimulations they would love to have in bed. The reason why one would prefer using it is
due to its soft and safe silicone body. Therefore, it brings no harm to the sensitive parts and can be
penetrated right into the female genitals. The powerful vibrating motor it has will help women enjoy
the most erotic actions, resulting in satisfactory bed performance. Using the EVO Nina rabbit
vibrator is hassle-free as it is light in weight. Equipped with 7 different vibrating speeds, it is a perfect
adult gadget for a perfect erotic session. Don't worry about its usage as it is waterproof and can be
used while having a bath.
Product: EVO Nina Rabbit Vibrator
Material: Silicone
Colour: Purple
Special feature: 7 vibrating speed and Waterproof
Spend quality time with the horniest rabbit ever and leave your genitals stimulated unlike what you had done till date. This modern Pretty Love Rabbit Vibrator has been designed to stir the female genitals so as to leave the user wild and crazy. It is an incredible erotic product that would do a pretty good job while you are in the midst of foreplay or a solo performance. In other words, this would be a completely new addition to your collection of sex toys and would bring on happy times for you and your partner inside the bedroom.
Have a look at some of its features:
·         Made of good quality silicone and ABS
·         Multiple settings
·         Hassle-free operations
·         Shaft enabled
·         Purple in colour
·         Mute design
·         Runs on powerful dual motors
·         Includes 30-vibrating functions
·         2 AAA batteries
·         Light in weight
·         Compact in size
Easy to clean and maintain, this Pretty Love Rabbit Vibrator will no doubt be a smart choice for women who desire something more during their intimate hours. If you had used vibrators till date, this one would surely bring you a new experience. Get it now at a very affordable price online and add loads of thrills to every performance.
Brand Name:

Nipleasure
Material:

ABS, TPE
Size:

L8.6" x W 2.4"
Length:

8.6 inches
Width:

2.4 inches max
Color:

Purple/Pink

Brand Name:
Nipleasure
Material:
ABS, TPE
Size:
L8.6" x W 2.4"
Experience waves of pleasure with a totally new take on vibration. The Passion Wave Jack Rabbit has the intensely pleasurable rabbit style, with simultaneous penetration and clitoral stimulation with a twist. Instead of plain vibration and pulsation, the soft jelly rubber shaft of the Slimline moves in smooth, undulating waves for an incredible thrusting sensation, while the powerful clit stimulating rabbit ears tickle and flicker. Multiple speeds of vibration and wave motion take you from teasing to intense, they're changed easily with push buttons on the easy grip base that features LED lights. You can enjoy this vibe in or out of water, as it's completely waterproof once the battery cap is securely tightened. Use a water based lube with the Passion Wave for maximum enjoyment. Takes 3 AA batteries (sold separately).
Specifications
Length - 10"
Insertable length - 5 1/4"
Girth - 5" around
Width - 1 1/2"
Material - Thermoplastic elastomer, plastic
Powered by - 3 x AA batteries
Special features - Thrusting motion, multi-speed, waterproof, E-Z load battery pack
Color - Pink
HIGHLY RECOMMENDED!! TRY IT!

Double Enjoy With This High Qulaity Silicone Vibrator

Ideal For Foreplay

30 Functions Of Vibration,Pulsation & Escalation

Silent And High Quality Vibrator Motor

Smooth, Unscented, Phalate Free

Easy Push Button

Use With Partner Or Solo

Easy To Use And Clean

With Refresh & Blood Circulation Function

Water-Proof Vibrator

Luxurious Body Safe Silicone

100% Silicone

Colour Not Fix

Free Battery Included
Elegant vibrator rampant in color lilac and white's unique quality that can offer a highly irresistible thanks to its rampant rabbit clitoral stimulation.

It will give you no doubt an unforgettable ride, at the same time that you enter inside you, making you even more deeply feel their vibrations, massaging your interior.

Pretty Love is synonymous with quality.
        It has 30 different vibration different impulses, making a perfect vibrator for you!
        Silicone 100% high quality FDA approved phalatos-free
        Ergonomic
        Very silent
        Submersible
Powered by two AAA batteries which are not included.
Dimensions: 20.4 cm x 3 cm.
Includes practical fabric pouch to store the product after use!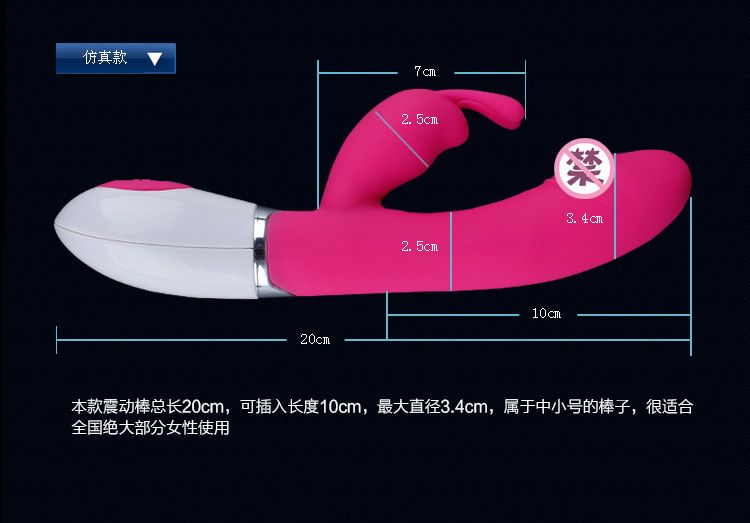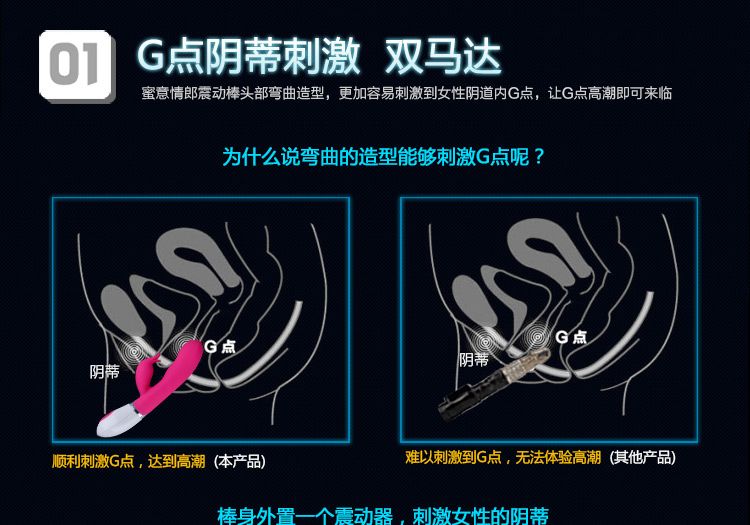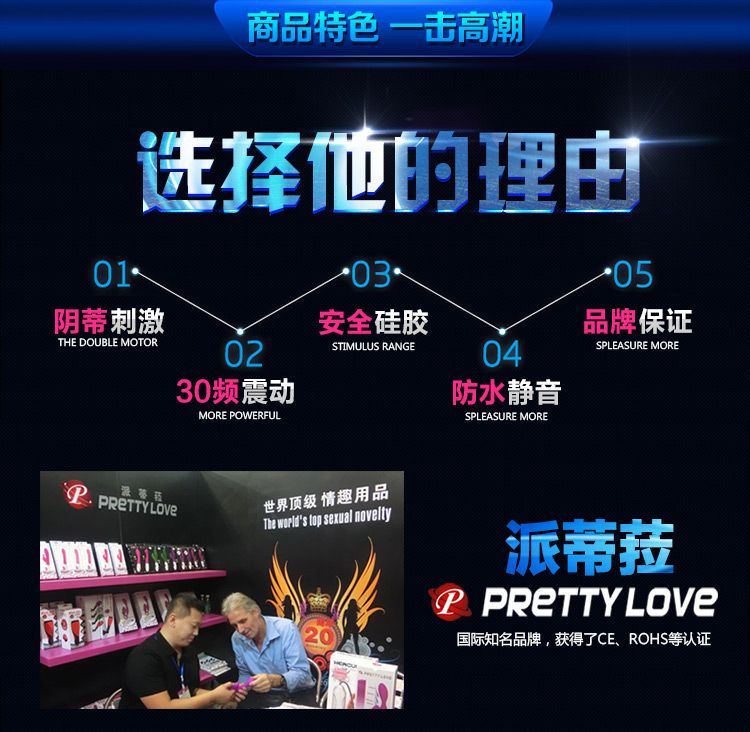 Have you ever used a rabbit vibrator? Did you ever really enjoy a lovemaking session by getting varying sensations in your genitals? Now get ready for some unlimited excitement with your partner by taking help of this Sexby Rabbit Vibrator. With a length of 14 cm and width of 11 cm, this rabbit vibrator is perfect for those deep penetrations. As you will allow the vibrations to shake your G-spot, you will be left wild and crazy. As it is made of good quality silicone, it is very easy to clean. However, it is always advisable to wash the product as thoroughly as possible and then use it. As it comes equipped with a powerful vibrating motor, is gets powered by two AA batteries.
Product: Sexby Rabbit Vibrator RV-036
Category: Rabbit vibrator
Material: Silicone
Colour: Purple
Dimensions: 14 x 11 cm (L x W
Length=15.5 inches

Insertable= 6 

inches

Dia=1.4 inches

Vibrator= Multispeed

Sound= Sexy

Material= Fully Silicone
ROTATING & PULL PUSH
FEATURES
Thrusting Rabbit Vibrator Colour               :     Skin
Thrusting Rabbit Vibrator Material           :      Jelly
Thrusting Rabbit Vibrator Functions        :   Thrusting, Mutti-Speed Vibrating, Rotating Head and Beads
Thrusting Rabbit Vibrator Insertable       :         5"
Thrusting Rabbit Vibrator Total Length   :        12"
Thrusting Rabbit Vibrator Circumference:        5"
Flexible Sex Toy?
Yes, Shaft
Waterproof Sex Toy?
Splashproof
FULL DESCRIPTION - Thrusting Rabbit
This fantastic thrusting multi-featured high tech rabbit vibrator is simply breath-taking. If you like the classic rabbit vibrator then you are sure to absolutely love this one. You get all the regular rabbit vibrator features including a bottom lip-trembling and powerful clitoral stimulator, delightfully synchronised rotating beads, tingling ears, a real feel shaft and easy to use multi-speed controls. But the huge bonus with this fantastic rabbit vibrator is the amazing shaft, which powerfully thrusts up and down inside you providing second to none penetration. This top-selling and power-packed thrusting rabbit vibrator has the looks and it sure delivers a 'blow your socks off' stimulation experience. Includes multi-speed thrills and a free set of batteries.
Have a look at this modern Pretty Love Rabbit Vibrator and tickle your genitals in the best manner like you never dreamt of. Incredible in terms of sensations, t would complement your foreplay or solo, whichever you choose to go with. Pretty Love York rabbit vibrator would surely be a trendy addition to your compilation of sex products and would bring on happy times for girl during her lonely hours.
Have a look at some of its features:
·         Made of good quality silicone
·         Multiple settings
·         Hassle-free operations
·         Shaft enabled
·         Purple in colour
·         Mute design
·         Powerful motor
·         2 AAA batteries
·         Light in weight
·         Compact in size
What's best about Pretty Love York rabbit vibrator is its hassle-free maintenance. Just take some water and mild detergent and you will be able to clean it with no effort at all. You can now purchase it at a very economical price online and thereafter take your daily performance to a new level.
Description : Ai Fei Effie - rods .
  
Built-in high -quality motor 2 ,

520 mA high-capacity lithium battery ,

7 segment vibrate mode ,

160 days long standby

High-end gift box packaging,

The included USB charging cable, fine collection of bags.
This gorgeous multi-function vibrator is sure to bring you endless pleasure possibilities. With the simple push of a button, you can change the direction of the shaft rotation, speed, and pattern, along with the clitoral stimulators. The floating steel balls/pearls vibrate around the rotating shaft, stimulating the vulva, while the external bullet nestles against the clitoris. The LED panel scrolls out the vibration and pulsation patterns so you can easily adjust to your perfect pleasure pattern for the ultimate experience. It is led by 3 AA batteries.
3 AA batteries not included with the box.