

Super Flexible Sucker Base Realistic Vibrator RSV-067
Secure payment
Delivery & Return Policy

Privacy Policy
Customers who bought this product also bought:
lift up breast and keep firming with herbal extract and soya extract, you will look beautiful and young 100ml
16 other products in the same category:
9.5"long, 1" dia,
Multi-speed vibration,
Totally Silicone.
TPR material.
Requires 2AA batteries (not included).
Imagine the combination of a Realistic Vibrator and a vibrator into one to leave your genitals stimulated. One such incredible product is this Smart Realistic Vibrator Orgasm Master that is 10 inches long and 2.5 inches wide, which is quite impressive in terms of vaginal penetration. Being made of silicone, it is high on quality and durability as well. Moreover, it is quite soft and flexible that will not inflict any pain on the female genitals during penetration. Be it a solo or foreplay, this smart Realistic Vibrator orgasm master is just outstanding owing to its multi-speed vibration mode, leading to orgasm in no time. It runs on powerful AAA batteries that provide it sufficient charge to stay active for hours.
The Smart Realistic Vibrator Orgasm Master comes with a remote control that makes it more user-friendly. The remote control is purple in colour while the Realistic Vibrator comes in a natural skin colour. Make sure to get it cleaned with warm water and a cleaning agent.
Product: Realistic Vibrator Libido Booster with Suction Cup
Category: Realistic Vibrator
Material: Silicone
Size: 10 x 2.5 inches (L x W)
Colour: Skin
Function: Designed for clitoral stimulation and vaginal penetration
Purple Waterproof Ribbed vibratory vibrator
A beautiful vibrator made of a material soft, polymer material with 3 ridges within the shaft. The tip is archingto stimulate the g-spot with its ten completely different vibration modes. it's easy and simple to use with Associate in Nursing on/off and scrolling vibration button. With Associate in Nursing insertable length of four.5 inches and a girth of three.5 inches at its widest purpose, this vibration is simply good to begin up your collection! it's 100% waterproof therefore do that vibration call at the tub or shower for a few water fun! out there in purple, this vibrator can offer you everything you wish to achieve that each one necessary climaxSuper ribbed Realistic Vibrator is best sex toy for girl.
Big Bent 10" Suction Cup Giant Chocolate Realistic Vibrator
KEY FEATURES:
Incredible thick shaft, Realistic texture with raised veins - 10 inches long with a strong suction cup!
NOT for beginners or the meek - advanced sexperts only
Including a powerful vibrator designed to stimulate your external zones
Non-latex, phthalate free & hypoallergenic materials
Advanced sex experts, meet your match! He's big and bent and ready to deliver the ultimate stimulation. Beginners and intermediates will still require some training, but for those who have become accustomed to larger toys, there's nothing impractical or un-useable about this giant. The material is made of top-quality TPR that's ultra-safe and easy to clean. The texture is incredibly lifelike, features popping veins and a strong suction cup that'll keep him locked into place. If you think you're ready for the next level of erotic intensity, here he is! Realistic Vibrators of high quality.

Personal Mini Massager: A powerful vibrator designed to stimulate your external zones, such as the nipples, clitoris, testicles, scrotum, perineum and back of neck.

Battery: 1 AA batteries (not included)
CONDITION
Every item is 100% brand new, in original manufacturer-sealed packaging.
PRIVACY
This is a private listing and your identity will not be disclosed to anyone.
SHIPPING
We always ship your products in unmarked packaging, either grey ploy envelopes, padded white envelopes, or unmarked box. We also do not manufacture most of our products with retail packaging, which saves shipping costs!
---
---
---
---
---
Are you looking for a sex toy that will make you go wild on bed? If it is so, what you must have is the PowerShot Realistic Vibrator. Pitch black in colour, it takes the real shape of a penis and looks quite seductive to leave any woman crazy on bed. It is 8 inches long, which is good enough to penetrate the vagina and initiate orgasm.
What makes it more effective is its vibrating mode that stirs the clitoris and makes her ready for the climax. It runs on AAA batteries and stays charged for quite a long time of action. As it is made of high-quality silicone, it is very easy to clean and maintain as well.
Product: Power Shot Realistic Vibrator
Category: Realistic Vibrator
Function: Stimulates the female genitals and triggers one's orgasm
Colour: Black
Battery: 3 AAA batteries
Length=8 inches
Dia=1.5 inches
Vibrator= Multispeed
Material= Fully Silicone
This awesome vibrator is a brilliant pick for all those who are willing to stay orgasmic all the time. For being made of silicone, it ensures no harm to the skin and has neither any side effect. Once you hold it in your hand, you will find it quite hard and smooth to play with. Since the remote control has been provided, it would let you customize the vibrations as per your choice. Moreover, you will get those vibrations right at the tip that will get you going. Measuring 8.5 inches in length, 1.9 inches in width, and 6.25 inches as insertable length, it would perfectly cater to your sexual needs. You will require two AA batteries to keep up this gadget running.
Product: Magic Silicone Realistic Vibrator RSV-048
Category: Realistic Vibrator
Material: Silicone
Colour: Natural skin
Battery: 2 AA batteries
7'' long 1.5''dia  TPR materials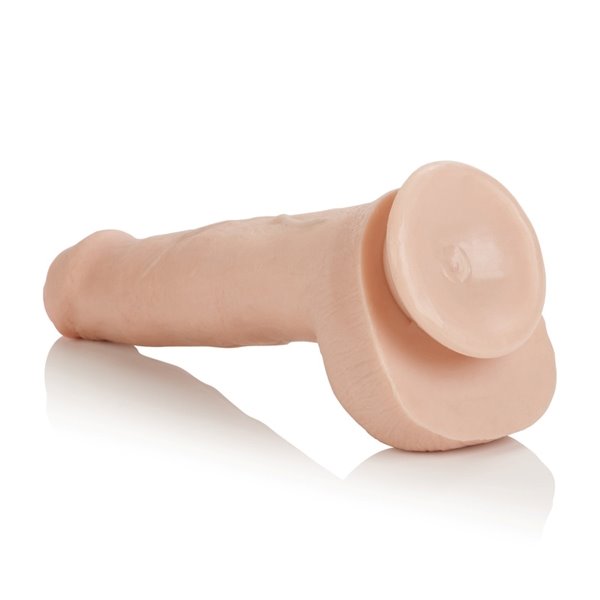 Purchase this perfect replica of the astonishing appendage of Argentinian porn star Adam Champ and fulfil your every extra-filling fantasy. Adam's uncut dong stands at 6.5 hard inches, its wide shaft and pronounced foreskin ready to pleasure on demand.
Moulded in Better-Than-Real Plus PVC material direct from the star's mammoth member, the firm-yet-flexible dildo is hand-finished to do justice to its rosy head and bulging blue veins.
Plug it on to any smooth surface using its strong suction base and ride to your heart's content hands-free, or attach it to a harness for super-satisfying strap-on enjoyment.
Get the best from Adam Champ's proud penis by coating the head and shaft with water-based lubricant prior to play.
Key Features:
•Realistic dildo based on well-endowed porn star Adam Champ
•Hand-finished to ensure fabulous authenticity in every detail
•Unusual uncut foreskin detailing - just like Adam's
•Moulded in Better-Than-Real Plus PVC material
•Suction-cup base for a hands-free ride
Length: 9 inches
Insertable Length: 6.5 inches
Shaft diameter: 2 inches
Circumference: 6 inches
Base diameter: 8.5
Oring diameter: 2 inches
Realistic Vibrator Sex flesh Multispeed Maddox Realistic Vibrator with Suction V3 is a trendy and powerful vibrator and an ideal pick for women who are willing to stay orgasmic all the time. In terms of length, it is 8.5 inches, width is 1.9 inches wide, and the insertable length is 6.25 inches. You need two AA batteries to keep up this gadget running.
Have a quick look at some of its features:
·         Trendy in look
·         Powerful vibrating modes
·         Made of silicone
·         Remote control operation
·         Alternate speeds between Low and Super
Frequently Answered Questions:
Why buy Sex flesh Multispeed Maddox Realistic Vibrator?
TLC Hand Held Hitachi Magic Wand is absolutely harmless for the skin and has no side effects. In fact, girls would get a hard and soft penis to play with and insert it with safety.
How to use Sex flesh Multispeed Maddox Realistic Vibrator?
Make good use of the remote control that will actually keep the vibrations in control. Also, you will be able to alternate between different speeds at a time, starting from Low to Super.
What makes Sex flesh Multispeed Maddox Realistic Vibrator a unique sex toy?
TLC Hand Held Hitachi Magic Wand produces vibrations to be felt right at the tip that would create crazy sensations.
Product Features
Deep Penetration: At 8" in length (7.5" insertable length, 1.5" girth), this big dong might be better than the real deal! Compatible with all types of lube and featuring lifelike veins and wrinkles, the texture adds unique sensations while the smooth tip is easy to insert.

Good Vibrations: Realistic Vibrator are great, but some pulsing vibrations make things even better! Our female vibrators will have you quivering with every thrust as they stimulate your G-spot and rock your world. They even feature multispeed settings for your total control.

Portable Pleasure: With a convenient, wireless design that allows you to use it virtually anywhere, you can comfortably explore different positions without worrying about plugs or wires. It's also great for travel, turning long weekends into trips you'll never forget!

Body Safe Materials: Soft PVC gives our vibrators for women a comfortable, elegant feel during use. Firm but flexible, it allows you to tease yourself in all the right places! It's phthalate and latex free, so you can rest assured knowing it's a premium quality product.

Discrete Delivery: Looking to have a little fun without broadcasting it to the world? We completely understand! Your satisfaction, safety, and privacy are our top priorities. All of our products are shipped in plain, unmarked packaging to ensure your secret stays safe.

2 pictures available.
     Product Description
Deep Penetration and Powerful Vibes!
While Realistic Vibrators look and feel like the real thing, they lack the extra oomph needed to
create fireworks. On the other hand, vibrators provide great stimulation, but they're made of
stiff, hard materials that destroy any feelings of intimacy.
The Purple Dong by Healthy Vibes brings together the flexibility of jelly with the deep
pulses of a vibrator! A whopping 8" in length (7.5" insertable length, 1.5" girth), our dildo
perfectly fills your body with intense pleasure. Realistic vein and wrinkle detail provides a
unique texture for added stimulation, while the bendable jelly material and curved head
make hitting your G-spot easy!
Doubling as a powerful vibrator, this Realistic Vibrator takes things to the next level! Multispeed control
sits at the base of the toy, allowing you to crank things up as your session intensifies. And if
you're a girl on the go, the wireless design is perfect for travel (2 AA batteries sold separately)!
Why choose between safety and pleasure? When you shop with Healthy Vibes, you don't
have to! Made of high quality PVC, our Realistic Vibrator is durable and latex and phthalate free. It's
compatible with all lubricants and cleans quickly with soap and warm water.
Why Choose Our Realistic Vibrator?
- Realistic size and texture
- Flexible jelly material
- Multispeed vibrations
- Wireless and portable
- Latex and phthalate free
Products Desciption
Product: Hands-Free Remote Controlled Penis Masturbator
Material: Silicone
Size: 7.5 inches , Diameter- 1.5 cm
Colour: Skin
Special Feature: Remote control with multi-speed vibration settings
Battery: 2 AA batteries
Description:
Enjoy Effortless Solo Sessions with a Remote Controlled Penis Masturbator
Have you ever tried masturbating without using your hands? Do you want to use a remote-controller that would help you masturbate? Well, new experiences come with new experiments, which you can now try with this Hands-Free Remote Controlled Penis Masturbator. With a perfect insertable length and width, this erotic toy will bring you the best of sensations you have been craving for. What also makes it score high is its skin colour that gives it a natural look. It also has a soft body made of silicone, which when penetrated, gives an unmatched pleasure.
This penis masturbator, as mentioned earlier, comes remote controlled. This means that you can customize its speed and settings with the help of the button provided on the remote. Moreover, it comes equipped with multi-speed vibrations that would help the user choose different speed and vibration settings during use. The product is corded and one can, therefore, use it keeping safe distance from the power source. Women can always use it by applying a lube, which will result in complete safety and stronger stimulations. In fact, one can always use it alone or take help of a partner. This Hands-free Remote Controlled Penis Masturbator actually looks like a real penis and would leave its user satisfied any day. 
Hands-free Remote Controlled Penis Masturbator is available at a very affordable price and can now be bought from a reputed online sex toy store. Now have amazing solo sessions or get your partner along with this trendy electronic masturbator that will certainly play a key role in improving your sex life. 
Mr.Realistic Vibrator V1 RSV-027
Take a look at this 10-inch long Realistic Vibrator that will now make your solo sessions completely satisfactory. It has a vibrant look as it is orange in colour and looks like a real penis. It has been given a perfect shape and design that makes it a perfect pick for women willing to have fun with themselves. Made of TPR, it assures safety for the user and involves no artificial chemical. Mr.Realistic Vibrator has a multi-speed vibration feature. This lets one enjoy varying effects on her genitals. Also, it is waterproof that makes it safe to play in water. Having made of TPR material, it is quite safe and smooth to use. It comes with a suction cup and is a great addition to your list of sex toys. Buy Mr.Realistic Vibrator online today and have super time with your partner.
Product: Mr.Realistic Vibrator V2 RSV-027
Category: Realistic Vibrator
Colour: Orange
Material: TPR
Battery: 2 AA batteries
Were it not for the suction cup base and triple vibrations of this ultra-Realistic Vibrator, you could easily mistake it for the real thing. Offering 7 inches of shaft textured with veins and a ridged head, just flick the remote for larger-than-life fun.
Wired to a controller with a 25-inch cord, there is ample length for both you or your lover to take charge of the extra-quiet vibrations. Bickering over the remote has never been so much fun.
At its core the Realistic Vibrator is gorgeously firm, with its PVC skin offering a softer feel and flex. Finished with a pair of bulging balls, grind against them in play for external sensations or use as a helpful handle.
Rub your dildo's complete length with water-based lubricant before use to enjoy the toy at its pleasure apex.
Key Features:
7 inch realistic flesh colored Realistic Vibrator
Big, bold veins and realistic head for textured stimulation
3 speed, battery powered wired controller for easy operation
29 inch wire so you can pass the controls to your partner
Suction-cup base for hands-free enjoyment
How it measures up

Base diameter: 3
Base type: Sucker
Circumference: 6 inches
Insertable Length: 7 inches
Length: 8.7 inches
Oring diameter: 1.5 inches

How it feels

Contains latex: No
Contains phthalates: No
Flexibility: Flexible
Material: Realistic Feel
Waterproof: Splashproof

Power and speed

Battery Info: 3 x AA batteries
Controller Type: Wired
Power Type: Batteries (not included)
Vibration speed: Three speeds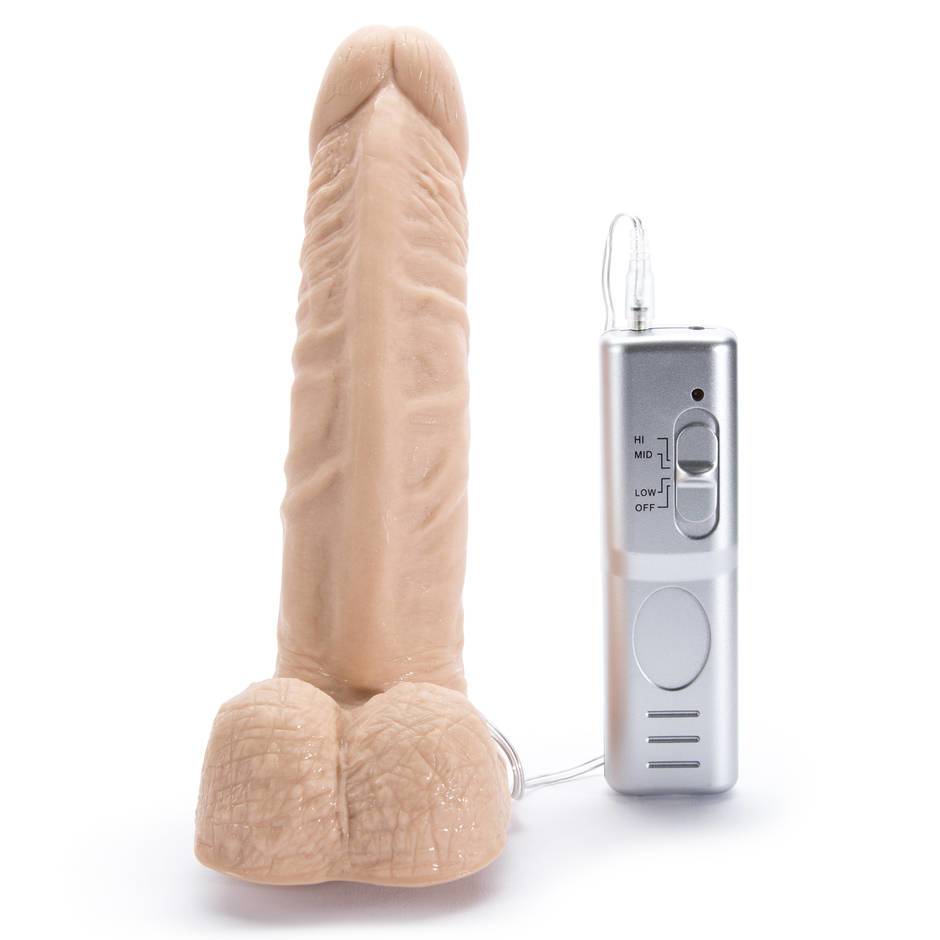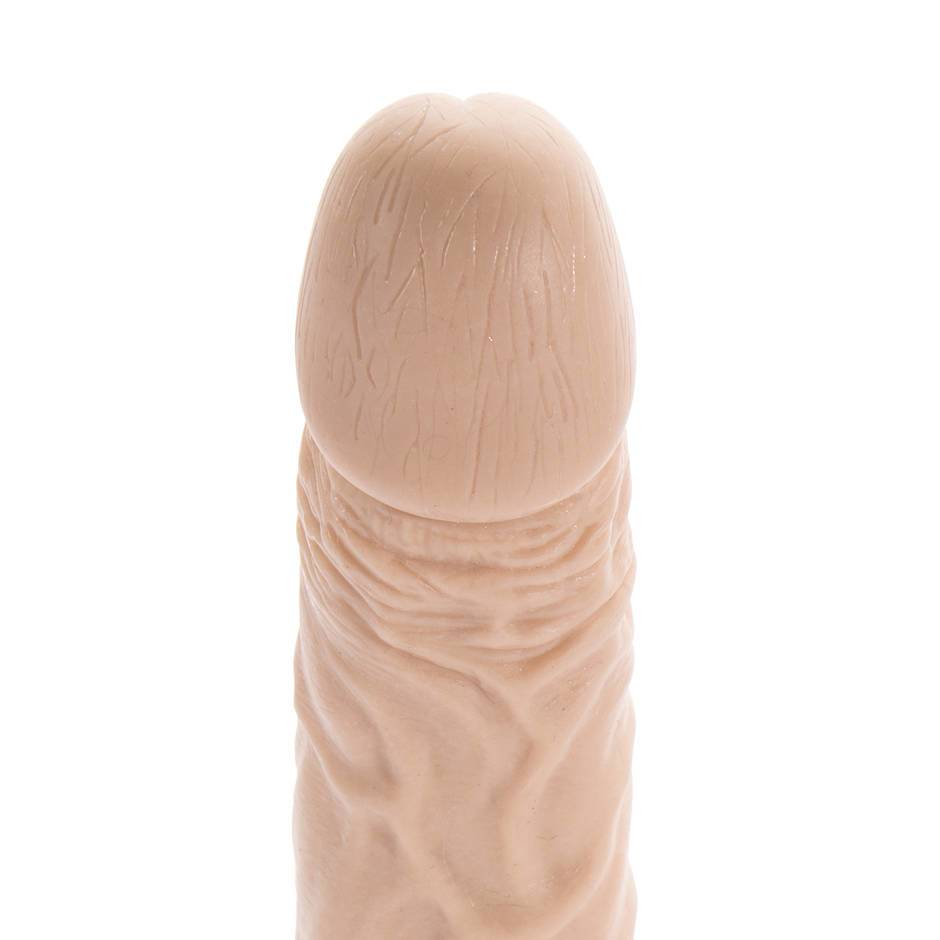 ---
Sex Flesh Realistic Vibrator is an ultra-Realistic Vibrator that comes powered with a multi-speed motor. Strong and durable, it is made of TPR or Thermoplastic Elastomers that makes it soft to touch. It measures 7.75 inches in terms of length. When inserted, it is 5.75 inches and 1.5 inches in diameter.
A quick look at some of its features:
·         Made of TPR
·         Highly durable
·         Comfortable to use
·         Compact in size
·         Soft on skin
·         Vibrator built-in
Frequently Answered Questions:
Why buy Sex Flesh Vibrating Valentino Realistic Vibrator?
Sex Flesh Vibrating Valentino Realistic Vibrator generates orgasm just when it starts tickling the genitals. Moreover, it is very soft and comfortable to use. It sports a real look with a natural skin that makes it look lifelike. So, the experience you will having is brilliant.
How to use SexFlesh Vibrating Valentino Realistic Vibrator?
Sex Flesh Vibrating Valentino Realistic Vibratorcan be simply placed on the sensitive area of the body and used with the vibration mode on.
What makes Sex Flesh Vibrating Valentino Realistic Vibrator unique?
Sex Flesh Vibrating Valentino Realistic Vibrator is absolutely splash-proof and hence can be used while taking bath. This is what makes the product stand out.