

Super Natural Black Silicone Realistic Vibrator RSV-011
| | |
| --- | --- |
| Color | BLACK  |
| Total Length | 10 |
| Insertable Length | 8 |
| Dia | 6 |
| Material | SILICONE |
| Vibrating | Yes |
| No. of Battery Required | 2 |
| Size of Battery | AA |
Secure payment
Delivery & Return Policy

Privacy Policy
9" long,
Multi-speed vibration,
Material:- SILICONE
1.2 inch dia
Color- Black
Requires 2AA batteries (not included).
Data sheet
Color

BLACK

Total Length

10

Insertable Length

8

Dia

6

Material

SILICONE

No. of Battery Required

2

Size of Battery

AA

Vibrating

YES
Customers who bought this product also bought:
16 other products in the same category:
8"long, Multi-Speed Vibration,
Slicone Material.
1.2 inch dia.
Requires 2AA batteries (not included).
If you are looking for a modern vibrating toy, hesitate no more and pick this amazing device online at a super reasonable price. Women will just playing with this Realistic Vibrator for some quality solo sessions. It has been made out of silicone and causes no harm to one's skin conditions. It is not only hard but quite smooth to play with. Operation will seem to be smoother due to the remote control provided. As a result, it would be easier for you to customize the vibrations as per your choice. It measures 8.5 inches in length, 1.5 inches in width, and 6.50 inches as insertable length. These measurements are just perfect to meet all sexual needs. You need only two AA batteries for this device.
Product: Sex flesh Multispeed Maddox Realistic Vibrator with Suction V4 RSV-047
Category: Realistic Vibrator
Material: Silicone
Colour: Natural skin
Battery: 2 AA batteries
A multipurpose Realistic Vibrator that gives you toe-curling orgasms and variety? Yes, please! Introducing the Whoppers Realistic Vibrator - the all-in-one sensational sex toy you'll want to have in your collection. 
You'll love riding and vibrating with the Whoppers Vibrator!
With the multiple speeds and various uses, this vibe gives you all kinds of thrills. The speeds can be adjusted with the included remote control. When it comes to this vibrator, boredom won't be part of your vocabulary any longer! 
The realistic cock and balls design adds an intimate feel as well as acts as a safety barrier for anal adventurers. The vein-like ridges gives you more exciting sensations for a better, more realistic experience.
You can use this vibrator with a strap-on to vary your sex play! The powerful suction cup on the end lets you stick the vibrator on any flat surface for hands-free fun.
The Whoppers Curved Suction Cup Realistic Vibrator requires AA batteries (sold separately).
*Note: Avoid using in water.
Key Benefits:
Realistic cock and balls design made from soft material

Vein-like ridges for extra thrilling sensations

Multiple speeds to increase your pleasure

Remote control vibrator for easy use

Strong suction cup on the end to place on flat surfaces for hands-free play

Make this already sensational toy more arousing with one of our pleasure-enhancing lubes!
Real Specs
Sizes Available: 4-inch and 5-inch

4-Inch Measurements - Length: 5.25 inches; Insertable Length: 3.75 inches; Girth: 3.25 inches at largest point; Width: 1-inch at largest point

5-Inch Measurements - Total Length: 6.5 inches; Insertable Length: 4.5 inches; Girth: 4 inches at largest point; Width: 1.1" at largest point

Material: Phthalate-Free ABS Plastic, PVC

Requires 3 x AA Batteries (sold separately)

Special Features: Multi-Speed, Suction Cup, Remote Control, Phthalate Free, Textured Surface, Realistic Cock Design, Strap-On Compatible

Can be used with water- or silicone-based lubes
---
GIVE IN TO YOUR LUST for a realistic cock! This bendable Big Bent 10" Suction Cup Chocolate Realistic Vibrator is a perfect model of a handsome penis! Lifelike veins cover the flexible shaft for satisfying stimulation on your inner vaginal walls! The thick, realistic penis head will rub your g-spot until you cum!

DEFINED HEAD AND BALLS are visually stimulating! You'll become fully aroused when you see and feel this life-like dick! A wrinkled head and balls lets you enjoy the sensual textures of a real man! Thrust this realistically contoured penis into you for extremely real sexual satisfaction!

TPR FEELS LIKE SKIN so you can experience realistic pleasure! This material is body-safe and non-toxic! It is free from phthalates for those with sensitive skin! Massage your vaginal walls with this pliable vibrating dildo! To keep this Realistic Vibrator silky smooth we suggest using a refreshing powder or cornstarch. After washing, let air dry, then simply rub the powder onto this sexual product!

FLEXIBLE DONG means you can bend this sex toy to your liking! This realistic dildo is not just flexible, it holds its shape too! Bend this dick to perfectly fit your vagina for optimal pleasure! Like a man with a curved shaft? This bendable sex toy lets you enjoy the stimulation you love!

MULTIPLE VIBRATIONS will drive you wild! An easy twist base lets you adjust the vibration strength of this women sex vibrator! The vibrations are concentrated in the head for maximum g-spot stimulation or intense clitoral stimulation!
Mr.Realistic Vibrator V1 RSV-026
Have you ever used a 10-inch long Realistic Vibrator? If you haven't, take a look at this Mr.Realistic Vibrator. Pitch black in colour, it represents an actual penis as it has given a realistic shape with veins on it. Made of TPR, it assures safety for the user and involves no artificial chemical. What makes it a great pick is its multi-speed vibration feature that lets user the try different sorts of effects on her genitals. Moreover, it is waterproof and made of TPR material that makes it quite safe and smooth to use. It has a shaft that sports a real finish and looks quite real. Equipped with a suction cup, it is worth every penny you pay for it. Get the Mr.Realistic Vibrator online today and have an awesome time on your bed.
Product: Mr.Realistic Vibrator RSV-026
Category: Realistic Vibrator
Material: TPR
Colour: Black
Battery: 2 AA batteries
Length=8 inches
Dia=1.5 inches
Vibrator= Multispeed
Material= Fully Silicone
9.5"long, 1" dia,
Multi-speed vibration,
Totally Silicone.
TPR material.
Requires 2AA batteries (not included).
Women will now have super fun getting orgasm inside bedrooms with this high-quality penis underwear. The Female Orgasm Silicone Penis Underwear, as the name suggests, is made of premium quality silicone that makes it soft and cozy enough to wear for the user. Moreover, it is made of non-toxic materials that ensure absolute safety for the skin. Also, it has an ergonomic design and is waterproof as well. What makes it user-friendly is its adjustable belt size that can be easily worn around the waist. With its detachable anal plug, it gives one the liberty to use it either individually or together. The vibration speed can even be adjusted as per one's convenience.
The product comprises a piece of underwear and two dildos in two different colours, black and skin. Both the dildos are made of silicone and can be used alternatively by the user. The black Realistic Vibrator is 9 inches long while the skin coloured Dildo is 6 inches long. The Female Orgasm Silicone Penis Underwear is easy to wash and can be maintained as well. It is advisable to clean it every time before and after use. Once you own it, just put it on and get on with your most awaited night plans on the bed.
Product: Female Orgasm Silicone Penis Underwear 
Category: Penis Underwear
Material: Silicone
Size: Black Dildo is 9 inches long; Skin coloured dildo is 6 inches long
Colour: Black and Skin
Function: Designed to improve female orgasm
DESCRIPTION
Realistic feel and shape.
Quality material will last.
Safe to use with lubricant.
It does get the job done. You will feel filled up and if you like extra stimulation, the veins in the design will give that extra stimulation. It's also firm for those who like a firm one.
Strong vibration
MORE DETAILS
It is made of the latest silicone materials and feels nice. The spectacular appearance can bring you supper sexual experience with the best vision feast. You will not be willing to put it down.
Get an infinite relaxation brought to you by this new chic that can be your personal company in bed and shower.
With it's thereapeutic and pulsating effect, no more boring nights! Very user friendly and hygienic.
Buy it, to intensify your mood.
Total Lenght: 12 inches
Multi Vibration
Soft touch button Silicone
| | | | |
| --- | --- | --- | --- |
| Guarantee badge: | Yes | Brand: | Baile |
| Condition: | New | Weight: | 0.50 |
Material: Silicone
Function: Multi types of Vibrating models
1. Install the batteries correctly.
2. Use with 75% of medical alcohol to disinfectant scrub products before use, with suitable amount of lubricant on the product (recommended used together with condoms).
3. inserted into the vagina, start switch, until the climax
4. Off switch, and exit from the body.
Note
The product is only for personal use, should be cleaned before and after use. Circuit parts do not touch water, avoid a circuit fault. After use, remove the battery, put the product back on the packaging.
Product

Description

With little noise and large size and ambition, this girthy realistic vibrator stretches and fills, while a 10 mode motor provides powerful, whisper-quiet vibrations.

 

Its realistic head feels sensational when inserted and builds from a 4.9 inch to incredibly satisfying 6.9 inch girth at its widest point. Take its full length to enjoy deep, satisfying sensations, as well as external caresses from a set of lifelike balls.

 

To intensify your pleasure, click through each super-quiet speed and pattern using the wired controller and enjoy spine-tingling stimulation in a variety of positions.

 

We recommend a generous coating of water-based lubricant for maximum pleasure with plenty of glide.

Key Features:

Girthy realistic vibrating dildo with Multi Speed Remote
10-function whisper-quiet-yet-powerful motor
Curved tip and textured, graduating 4.9 - 6.9 inch shaft
Lifelike balls offer external pleasure
Multi Speed Vibration controller
Length=6.5 inches
Dia=1.5 inches
Vibrator= Multispeed
Material= Fully Silicone


Nasstoys Pearl Boss White Vibrating Dildo
The 6 inch Nasstoys Pearl Boss White Vibrating Dildo. It is veined and made from realistic material so feels like the real thing when you don't have it available.  The firm, yet soft texture feels absolutely amazing.  Add two AA batteries (included) and you have yourself an even extra sensation with the variable speed vibrations.
Specifications of The Nasstoys Pearl Boss White Vibrating Dildo:
Length:  8 - 10 inches
Two AA Batteries Needed (Not Included)
Realistic veined texture
Material:  PVC & ABS
Variable Speeds
Tickness:  5 Inches
Color:  White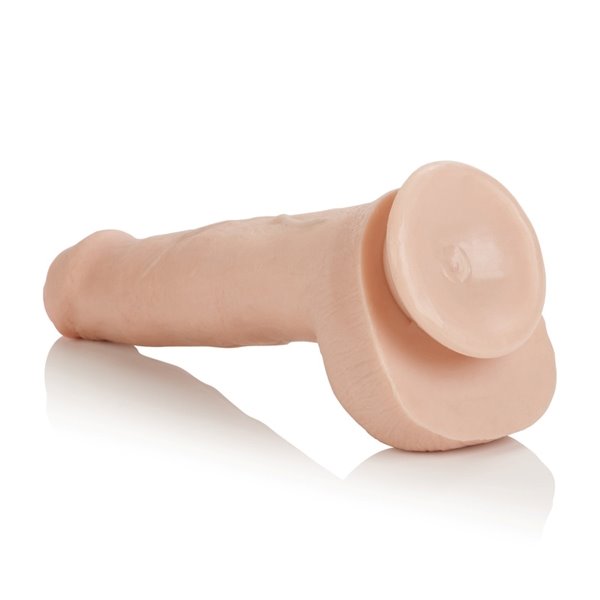 Purchase this perfect replica of the astonishing appendage of Argentinian porn star Adam Champ and fulfil your every extra-filling fantasy. Adam's uncut dong stands at 6.5 hard inches, its wide shaft and pronounced foreskin ready to pleasure on demand.
Moulded in Better-Than-Real Plus PVC material direct from the star's mammoth member, the firm-yet-flexible dildo is hand-finished to do justice to its rosy head and bulging blue veins.
Plug it on to any smooth surface using its strong suction base and ride to your heart's content hands-free, or attach it to a harness for super-satisfying strap-on enjoyment.
Get the best from Adam Champ's proud penis by coating the head and shaft with water-based lubricant prior to play.
Key Features:
•Realistic dildo based on well-endowed porn star Adam Champ
•Hand-finished to ensure fabulous authenticity in every detail
•Unusual uncut foreskin detailing - just like Adam's
•Moulded in Better-Than-Real Plus PVC material
•Suction-cup base for a hands-free ride
Length: 9 inches
Insertable Length: 6.5 inches
Shaft diameter: 2 inches
Circumference: 6 inches
Base diameter: 8.5
Oring diameter: 2 inches
Purple Waterproof Ribbed vibratory vibrator
A beautiful vibrator made of a material soft, polymer material with 3 ridges within the shaft. The tip is archingto stimulate the g-spot with its ten completely different vibration modes. it's easy and simple to use with Associate in Nursing on/off and scrolling vibration button. With Associate in Nursing insertable length of four.5 inches and a girth of three.5 inches at its widest purpose, this vibration is simply good to begin up your collection! it's 100% waterproof therefore do that vibration call at the tub or shower for a few water fun! out there in purple, this vibrator can offer you everything you wish to achieve that each one necessary climaxSuper ribbed Realistic Vibrator is best sex toy for girl.
Function: The Super Natural siloxane vibrator could be a high-quality vibrator which will be merely applied to the private parts. One will even apply fill up on that before use.
Material: Super Natural siloxane vibrator is formed of siloxane and this makes it quite snug and safe to use. Colour: Natural pink
Size: Being nine inches long, Super Natural siloxane vibrator has alternative sizes that go up to twelve inches. Special
feature: Supporting multi-speed vibration, the Super Natural siloxane vibrator can bring a sensational impact on one's private parts.
Battery: Super Natural siloxane vibrator runs on 2 AA batteries
9" long,
Multi-speed vibration,
Material:- SILICONE
1.2 inch dia