

Utimi 10 Mode Anal Masturbation Vibrating Butt Plug AD-023
Secure payment
Delivery & Return Policy

Privacy Policy
About the product
Made from silicone for its superior hygienic properties
Waterproof design the insertable part
Narrowed head for easier and deeper penetration
Lined with ribs and pleasure bumps for extra stimulation 10 modes of vibration, powerful vibrating force
Retrieval ring at the end for safety
Product description

Information:
This sex toy is specially designed for anus expansion and masturbation. The insertable part is made of 100% silicone which has the solid, fine and smooth texture. And we design 10-speed vibration to meet your sexual need. GO DEEP, GO FAST AS YOU WANT! Each time you insert deep and pull it out, you will enjoy the unprecedented sexual pleasure via this sex toy. Portable device and easy to operate with the controller.
Suitable size for anal sex beginners. Maybe you can have a try!

Feature
Material: silicone&ABS
Shape: beaded dildo with a controller
Frequency: 10
Size: 5.9*0.98 inches(anus plug), 3.94*1.5 inches(controller)
Power source: 2 pcs of AAA batteries(not included)
Color: black

Notice
Do not use or soak in water.
Customers who bought this product also bought:
lift up breast and keep firming & enlarging with herbal extract and soya extract, you will look beautiful and young 120ml
16 other products in the same category:
Product Description
Meet the butt plug so thrilling, she could only be called the Queen! This big anal plug inserts up to 5" deep and 2" wide for filling anal fun, along with a sensual rippled design that lets you take in a little or a lot - play as deep and hard as you desire! This butt plug's soft and flexible PVC construction makes daring anal play extra comfortable.
Big and thrilling rippled and curvy anal plug
Tapered tip makes insertion so easy
Rippled design massages with every move
Narrow center lets you play with just the upper shaft
Challenge yourself by taking up to 7" deep
Shaft widens out to 2" for a filling good time
Made from soft and flexible PVC
Suction cup base lets you play hands-free
Made in the USA
She's grand, gorgeous, and going to show your booty the time of its life! The Queen Butt Plug's royal ripples and curvy design are guaranteed to fulfill your wildest anal desires. Just add your favorite lube and feel every single slick ripple fill you up to 7" deep. The upper and lower sections of the shaft widen out to a thick 2" diameter that feels so good, you'll be shouting for joy.
The Queen Butt Plug's unique narrow center lets you ease into the full length of the anal toy. Start with just the upper shaft if it's a challenge at first, and build your way up to the whole thing. The wide base makes it easy to grip. Or stick it onto a nonporous surface like a chair or the shower wall for hands-free excitement.
Cleanup is easy with  Cleaner or mild soap and water. Pat dry. 
Product Details
Brand: Curve Novelties
Colors: Blue
Features: Suction-Cup Base, Textured, Made in America
Gender: Male, Female
Length: 7.0 inches
Material: PVC
Width: 2.00 inches
Requires 3AAA batteries (not included).
Material: Silicone
Function: Multi-speed vibrating , waterproof
 8'' VIBRATING 
8"long, multi-speed vibration,TPR material.
Requires 2AAA batteries (not included).
Have you ever used this anal sex toy?This anal sex toys are becoming more and more popular.This product is discreet enough and powerful enough to give you great stimulation and excitement. So what are you waiting for?Just take this anal sex toys home and enjoy them.
Material: ABS
Ball Size: 57X30mm
Function: Vaginal & Anal Beads Massager

Features:
*100%waterproof
*Super flexible and soft
*Tease yourself to the max and tune in to a whole new world of satisfaction.

Notices:
1.Personal items will not be returned
2.All items are brand new,but we still strongly advise you to wash or clean the item before wearing or using it for health reasons.
3.Wash product thoroughly before and after each use. We recommend the use of a toy cleaner. Such as safe suds. However warm soapy water may be used as well. Do not use on any open wound, skin lacerations or swollen or inflamed area. Discontinue use if pain or discomfort develops.No medical claims are warranted or implied by use of this product
Out of all forms of lovemaking, anal play is considered to be among the passionate and engaging ones. If you and your partner are yet to experience it for the first time, try playing with each by taking help of this Anal Pleasure Butt Plug. Made of good quality TPE, it is not only safe to use but quite smooth to use on the genitals. Purple in colour, this anal toy looks quite stylish and is sure to attract mostly women. What also makes it pleasurable for use is its anti-bacterial body that would send pure sensations inside the genitals, making them lubricate well.
Here are some of its unique features. Have a look:
·         Great for beginners and intermediate users
·         Stays safe inside genitals
·         Flared base enabled
·         Soft body
·         Bumps and shaft enabled
·         Prostrate stimulation
·         G-spot stimulation
·         Easy to insert
Now anal play is going to leave you stimulated and orgasmic with the help of this super erotic anal toy. Use this with a lubricant if it's the first time for you. This would keep the insertions soft and harmless. Don't worry about its price as it is absolutely pocket-friendly rate and is available at an online sex toy store.
Requires 2AA batteries (not included).
Material :Silicone
Size: 17 cm L, 3 cm Dia.
Function : Waterproof , Multi-speed vibrating
Requires 3AAA batteries (not included).
Material: Steel
Size: 18.1 cm L, 1.8cm Dia.
Function: Multi-speed vibrating , waterproof
Item Specifics
Material: Silicone
Waterproof
VIBRATING
Color :: Purple
Length :: 14.0cm
Top diameter :: 1.4cm
Max diameter :: 4.1cm
1.Product Description
Giving new meaning to a 'crystal maze', Doc Johnson's Crystal Jellies Anal Dildo is specifically designed for first-time anal. With its slim, tapered, flexible form, it works with your body's natural curves to navigate your hidden labyrinth with ease.
Realistically shaped and featuring lovely raised textures for enhanced pleasure, it's an exciting but non-threatening anal toy to introduce during foreplay or sex. Fancy hands-free anal? The suction cup base sticks firmly to any smooth, clean surface to enable exactly that.
Apply plenty of anal lube to your plug for really easy penetration and orgasmic stimulation.
Key Features:
Slender 6 inch dildo for first-time anal exploration
Realistic head with tapered tip offers easy insertion
Textured shaft enhances stimulation
Flared suction cup base stops unwanted travel and enables hands-free use
Soft and flexible jelly works with your body for maximum pleasure
Petite size is perfect for beginners
Product Description
·  Super Soft Silicone Butt Plug
·  Ergonomic Slimline Design 
·  Hand-Free Anywhere Can Hold Up
·  Special For Anal Stimulation
·  Anal Insertion
·  Colour & Design Not Fix (Random)
·  Easy To Use And Clean
·  Phthalate-Free Silicone
  Designed In USA
Product Description

Discover the thrill of anal beads when worn during sex, foreplay and masturbation with these Thai beads. In reverse formation with the largest set at the tip and the smallest at the end, the beads intensify pleasure when removed during climax.

 

Set with the largest bead at the insertion end, with subsequent beads becoming progressively smaller, the anal beads are backwards in formation when compared to traditional anal sex beads. The first bead is tapered to aid easy insertion.

 

At the point of orgasm, slowly remove the beads. The graduated beads' size stretches you and provides a build up of pleasure and sensations to enhance the intensity and duration of your orgasmic contractions.

 

Don't forget your fave anal lube for extra slippery sensations.

Key Features:

8 inch reverse anal beads for mind-blowing sensations during climax
Flexible design works with the contours of your body for maximum pleasure
Tapered first bead assists easy insertion
Ergonomic finger loop keeps play safe and secure
Slimline design is ideal for beginners
How it measures up

Length: 8 inches
Insertable Length: 6.25 inches
Circumference: 3 inches

How it feels

Material: PVC
Flexibility: Flexible
Waterproof: Submersible
Contains latex: No
Contains phthalates: No
Material: Silicone
Waterproof
NON VIBRATING
Silicone X-10 Anal Beads
The classic X-10 beads you know and love now come in safe, hygienic and easy-to-clean silicone for high-quality anal pleasure! This soft and pliable strand of beads is comfortable and features extra-small to medium graduated sizes. Perfect for beginners as well as all levels of anal play.
Comes with a tug-ring for easy retrieval. Sturdy, smooth and easy to clean. For safe and sensual anal play, always use this product with a water-based lubricant and follow with an anti-bacterial sex toy cleaner.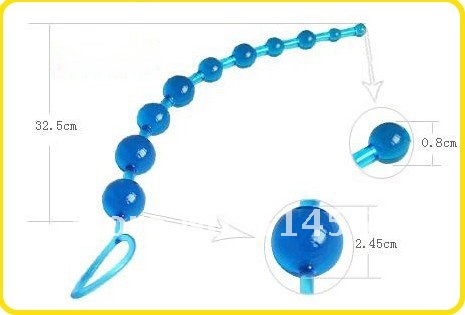 This Ribbed butt plug has dozens of rows of soft rubber ribs that will tease you to an unforgettable orgasm.The ribbes add extra stimulation on anal sphincter and rectum walls giving the ultimate anal stimulation for all level of user also this fat filling plug quickly warms to your body heat.
It comes with a base suction cup making it a highly versatile sex toy letting you apply it to any flat surface. Use your imagination, the limits to your fun is up to how creative you can really be
- Made of non-toxic soft rubber material
- Easy to use and operate
SPECIFICATION
Dimensions: 5.31 in x 2.56 in x 2.56 in (13.5 cm x 6.5 cm x 6.5 cm) Weight: 3.95 oz (112 g)
[Function]
100% contact with you every inch of jade wall , the depth of your heart straight top exquisite , delicate , and feel like real skin . Unique, compact design, fully meet your needs.This applies to goods elderly sexual function abate or long-term living without the law an obstacle to the ladies ; couple separated in two places, a strong woman sexuality , and divorced or single woman ; especially recommended to the pursuit of quality life experience, successful women .
[Specifications]
Shown below. An installation.
[Material]
Medical Polymer non-toxic materials
【Use
1 Insert the battery correctly ( the product use 2 AA batteries )
(2) prior to use with 75% of medical alcohol disinfectant scrub products, products coated with suitable lubricant ( recommended used together with condoms )
3 Insert the body , start switch, until the climax
4 Off switch, and exit from the body .
[Note]
The apparatus for personal use should pay attention to hygiene before and after use ; the equipment cleaning after use , the circuit part and avoid contact with water, to avoid circuit breakdown ; jacket should not with ink and other dirt easily ; collection before the battery box remove the battery , utensils loaded packing box , according to the original location of each collection well placed to prepare for the next use.
- Made of non-toxic soft silicone material
- Easy to use and operate
- Multispeed Vibrating
- Waterproof !!
Great For Beginners!
No matter which of these hot anal vibrators is teasing your ass, you can use the other vibrator at the same time for pussy play, ball stimulation, or clitoral teasing. Flexible folks can even share the love! Or if you want to focus, just disconnect one of the vibrators and use the other anal sex toy alone.
To activate 10 functions of vibration, pulsation, and escalation, just tap the on/off button, then press the 'Auto' button to explore several different kinds of vibration and deliciously arousing patterns.
Clean your My First Anal Explorer Kit with antibacterial soap and water or sex toy cleaner. Do not immerse the controller.
e.g.  AV Fleshlit