

SEXBY RABBIT VIBRATOR RV-036
| | |
| --- | --- |
| Color | VIOLET |
| Total Length | 7.6 |
| Insertable Length | 3.5 inches |
| Dia | 3.5 |
| Material | SILICONE |
| Rechargable | NO |
| Wireless | NO |
| No. of Battery Required | 2 |
| Size of Battery | AAA |
| Vibrating | YES |
| Vibrating Mode | 10 MODE VIBRATION |
| Weight | 87 gms. |
| Thrusting | NO |
| Imported From | U.K |
Secure payment
Delivery & Return Policy

Privacy Policy
Have you ever used a rabbit vibrator? Did you ever really enjoy a lovemaking session by getting varying sensations in your genitals? Now get ready for some unlimited excitement with your partner by taking help of this Sexby Rabbit Vibrator. With a length of 14 cm and width of 11 cm, this rabbit vibrator is perfect for those deep penetrations. As you will allow the vibrations to shake your G-spot, you will be left wild and crazy. As it is made of good quality silicone, it is very easy to clean. However, it is always advisable to wash the product as thoroughly as possible and then use it. As it comes equipped with a powerful vibrating motor, is gets powered by two AA batteries.
Product: Sexby Rabbit Vibrator RV-036
Category: Rabbit vibrator
Material: Silicone
Colour: Purple
Dimensions: 14 x 11 cm (L x W
Data sheet
Color

VIOLET

Total Length

7.6

Insertable Length

3.5 inches

Dia

3.5

Material

SILICONE

Rechargable

NO

Wireless

NO

No. of Battery Required

2

Size of Battery

AAA

Vibrating

YES

Vibrating Mode

10 MODE VIBRATION

Weight

87 gms.

Thrusting

NO

Imported From

UK
Customers who bought this product also bought:
Clit Stimulation With Bullet Vibrator
Product Description
Unique in design, this revolutionary product is the first ever vibrator that can be used while making love. The innovative design allows for both external clitoral and internal g-spot stimulation for women engaging in both solo and partner play. The We-Vibe is hands free, strap free and wireless. Created from 100% medical grade silicone, it's soft, comfortable and easy to use. 9 exciting new modes designed to provide maximum climatic stimulation (Low Speed - High Speed - Throb - Wave - Pulse - Ramp - Tease - Ascending - Cha-Cha). We-Vibe II makes it even easier "to get turned on" with a new intuitive push button easy to find on the We-Vibe II's nose. With just one push you're turned on to Low Speed, push again and you move from one sensual style to the next. Finished with your We-Vibe II? Simply hold down the push button for two seconds to turn it off. Did you forget and fall asleep? Don't worry, your We-Vibe now has an automatic shut-off, indicating its time to charge. At the push of a button, get turned on again with your favourite vibe within an hour of use. The We-Vibe II remembers your last vibration mode, and resumes play!
16 other products in the same category:
Want to tickle your genitals as wildly as you can? Want to feel something special like you had never felt before? Get the Pretty Love Rabbit Vibrator and you will just love tickling your G-spot. Hot, seductive and unique, this rabbit vibrator comes with a shaft so as to trigger wild sensations on the female genitals.
So, let's take a quick look at some of its special features:
·         Smooth to touch
·         Silicone body
·         Purple in colour
·         User-friendly
·         Easy to operate
·         Shaft enabled
·         Powerful motor
·         2 AAA batteries
·         Light in weight
Whichever lovemaking style you are willing to try, be it foreplay or solo, this Pretty Love Rabbit Vibrator is surely going to make you horny in no time. Safety is guaranteed with this product and your girl will not have any problems on her sensitive genitals. So, don't worry about its usage and operation and buy it online at a very affordable price today.
Nothing will beat your experience of enjoying clitoral stimulation than this PAG Red Hot Rabbit Vibrator. Purple in colour, it holds the ability to stir the vaginal muscles, creating wild sensations on the genitals and preparing her for a passionate encounter. Blended with smooth lines and a double vibrator, it comes with an assurance of bringing a new erotic feel to the user. This new-age rabbit vibrator is made of silicone and comes with a small motor that utilizes a biomimetic style. Moreover, its two massage points ensure that the user will surely go crazy with it.
PAG Red Hot Rabbit Vibrator comes with seven different vibrating modes along with an ergonomic design. Compact in design, it is easy to store. What makes it more user-friendly is its USB rechargeable point that eliminates the effort to charge it up whenever required. It is 9.5 inches long and 1.5 inches wide.
Product: Pag Rabbit Vibrator 
Category: Rabbit Vibrator
Material: Silicone
Size: 9.5 x 1.5 (L X W)
Colour: Purple
Function: Designed for clitoral stimulation and helpful for women looking for female masturbation
 Vibration speed can be adjusted with the remote you are available .
Super Strong Vibrator has a length of 14 cm by 11 cm circumference of a circle . Easy in use , washed / cleaned, Use 2 AA batteries.
tem Description
This is Vibration and Rotation Massager, which is essential for finding the G-spot to reach orgasm quickly. It can realize the sexual desire for women.Features: * G-Spot vibrator, vibration and rotation massager * An ideal product to meet women's sexual demands * Material: ABS + TPR * Length: 18cm * Width: 3.5cm * Battery: 2 x AAA batteries (not included) * Color: random color Package includes: * 1 x G-Spot Vibrator 19957
Just imagine how you would have felt on using a rabbit vibrator bringing you 30 different vibration patterns. Yes, it is unbelievably true that the Violet Emotion Rabbit Vibrator will now take your typical solo sessions to a completely new level. With the right curves and contours, this super erotic gadget is made of silicone. Violet in colour, it looks quite sleek and stylish and assures to give the user complete pleasure on her private parts. Being extremely flexible, it comes with a good number of features that will lead to intense orgasms than you had ever thought before. In fact, you can enjoy both vaginal and clitoral stimulation together with this rabbit vibrator.
Violet Emotion Rabbit Vibrator has a smooth shaft with a realistic head that will stimulate your clitoris and G-spot. As it is made of silicone, it is phthalates and latex free that assures to keep one miles away from skin infections.
Product: Violet Emotion Rabbit Vibrator
Category: G-spot and clit vibrator for women
Material: Silicone with ABS plastic handle
Colour: Violet
Size: 14.5 cm insertable, 20.5 cm total length
Special feature: 30 Function Dual Multi-speed mode
Item Type:

Vibrators
Brand Name:

Sexy Candy Shop
Material:

food grade silicone
Size:

10 speed
Model Number:

vibrators for women -dgzzq02
power supply::

2 AAA bateries
hardness::

Perfect balance between hardness and softness
Color::

pink and blue
G.W: :

100g
Number of vibration modes::

10
Type::

Female Vibrator
 

10 Function Dual Vibrators With Rabbit Clitoris Stimulate Penis Sex Toys For Couples And G-spot Rolling Dildo Vibrador For Women

Type: Female Vibrator

Number of vibration modes: 10

Waterproof: Splash waterproof

G.W: 100g

Intensity: Adjustable

Control: LED controller

Power supply: 2 AAA batteries (not including)

Color: Pink and blue

Material: Food grade silicone

Hardness: Perfect balance between hardness and softness

we will not send the original box for saving the shipping weight, if you need box you need to click here to buy: original box
Now stimulate your genitals as much as you can with this super stylish Dolphin Shape Mini Vibrator. Designed to make women go crazy in bed, this G-spot vibrator is soft and quite flexible for being made of premium quality silicone. Purple in colour, it looks quite stylish and has a perfect dimension of 3 x 11 x 21 cm. What makes it a perfect gadget for female masturbation is its powerful vibrator that stirs the clit, generates orgasm and prepares one for the climax.
Dolphin Shape Mini Vibrator is run by 2 AA batteries that provide sufficient charge to gear it up for a commendable performance. As this G-spot vibrator is made of silicone, one can easily clean it with some warm water and soap.
Product: Dolphin Shape Mini Vibrator
Category: G-spot vibrator
Material: Silicone
Colour: Purple
Size: 3 x 11 x 21 cm
HIGHLY RECOMMENDED!! TRY IT!

Double Enjoy With This High Qulaity Silicone Vibrator

Ideal For Foreplay

30 Functions Of Vibration,Pulsation & Escalation

Silent And High Quality Vibrator Motor

Smooth, Unscented, Phalate Free

Easy Push Button

Use With Partner Or Solo

Easy To Use And Clean

With Refresh & Blood Circulation Function

Water-Proof Vibrator

Luxurious Body Safe Silicone

100% Silicone

Colour Not Fix

Free Battery Included
Elegant vibrator rampant in color lilac and white's unique quality that can offer a highly irresistible thanks to its rampant rabbit clitoral stimulation.

It will give you no doubt an unforgettable ride, at the same time that you enter inside you, making you even more deeply feel their vibrations, massaging your interior.

Pretty Love is synonymous with quality.
        It has 30 different vibration different impulses, making a perfect vibrator for you!
        Silicone 100% high quality FDA approved phalatos-free
        Ergonomic
        Very silent
        Submersible
Powered by two AAA batteries which are not included.
Dimensions: 20.4 cm x 3 cm.
Includes practical fabric pouch to store the product after use!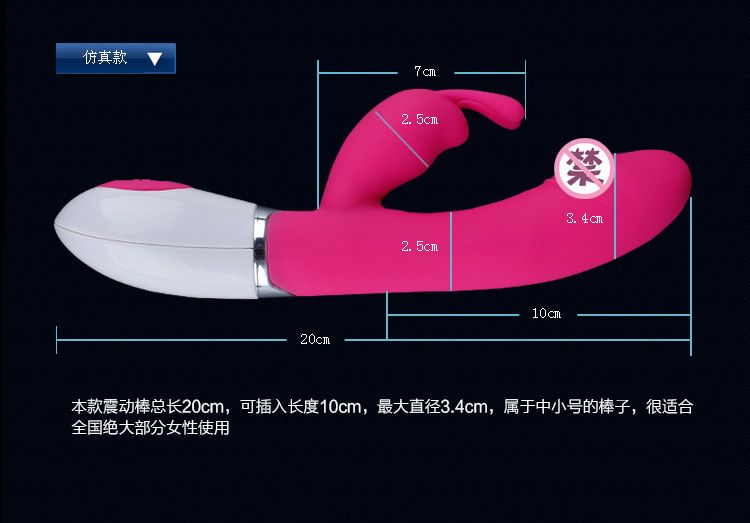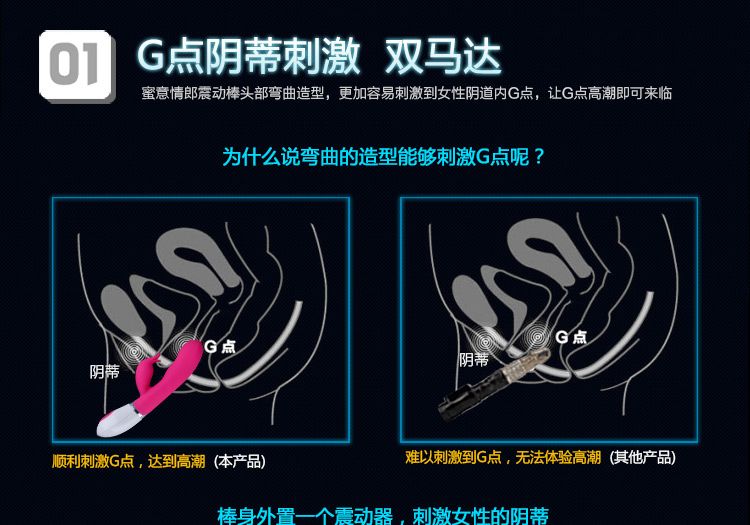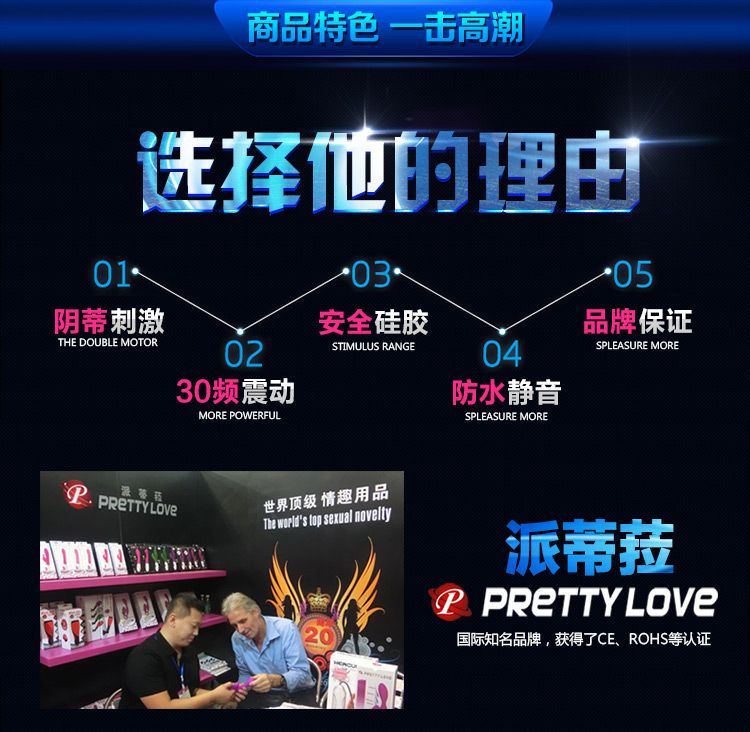 Material:

TPR
Brand Name:

DIBE
Model Number:

RV-17
Size:

Pink, purple, blue
Item Type:

Vibrators
Till now if you have used only ordinary rabbit masturbators, you are sure to be left thrilled with this exclusive Jelly Fun Female Rabbit  vibrator. What makes it stand out among others is its jelly-like body that has been designed to bring a soft touch to the female genitals. Suppler and softer than typical masturbators, this jelly rabbit masturbator will take almost no time for your vagina to lubricate and heighten your erotic pleasures with its vibrations. Made of good quality PVC, it is absolutely durable and free of toxic chemicals. Furthermore, it is easy to clean with soap and warm water.
Product: Jelly Fun Female Rabbit  vibrator
Category: Rabbit Masturbator
Function: Satisfies the female genitals through vaginal penetration and makes one ready for the climax on bed.
Material: PVC and Silicone
Colour: Grey and Purple
Size: 9 inches in length and 5 inches in breadth
Bring home the sexiest rabbit at home and make her play with your genitals unlike what you had done with yourself till date. Imagine the tickles you feel on your genitals caused by the vibrator. Designed to leave you wild and orgasmic, this is an incredible sex toy that comes with a shaft. Moreover, the powerful vibrations will make you squeeze your bed sheets out of excitement. It is no doubt a new type of device that would assure pleasurable hours for you as well as your partner.
So, let's take a quick look at some of its special features:
·         Smooth to touch
·         Silicone body
·         Purple in colour
·         User-friendly
·         Easy to operate
·         Shaft enabled
·         Power motor
·         2 AAA batteries
·         Light in weight
Whether it is solo or foreplay, this Pretty Love Rabbit Vibrator will be a perfect choice for women who wish to stay stimulated all the time. So, if you know that you have become horny, just rest on your bed, take your erected penis and penetrate it right into the female genitals. Don't delay and buy it online at a cheap price today to surprise your partner.
Description : Black T Black T- transfer beads stick.

  Battery Version transfer beads stick

  Silicone material

  Quiet and efficient motor imports

  Three AAA batteries

  Three rotational frequency

  7 vibration frequency
Have a look at this modern Pretty Love Rabbit Vibrator and tickle your genitals in the best manner like you never dreamt of. Incredible in terms of sensations, t would complement your foreplay or solo, whichever you choose to go with. Pretty Love York rabbit vibrator would surely be a trendy addition to your compilation of sex products and would bring on happy times for girl during her lonely hours.
Have a look at some of its features:
·         Made of good quality silicone
·         Multiple settings
·         Hassle-free operations
·         Shaft enabled
·         Purple in colour
·         Mute design
·         Powerful motor
·         2 AAA batteries
·         Light in weight
·         Compact in size
What's best about Pretty Love York rabbit vibrator is its hassle-free maintenance. Just take some water and mild detergent and you will be able to clean it with no effort at all. You can now purchase it at a very economical price online and thereafter take your daily performance to a new level.
Experience waves of pleasure with a totally new take on vibration. The Passion Wave Jack Rabbit has the intensely pleasurable rabbit style, with simultaneous penetration and clitoral stimulation with a twist. Instead of plain vibration and pulsation, the soft jelly rubber shaft of the Slimline moves in smooth, undulating waves for an incredible thrusting sensation, while the powerful clit stimulating rabbit ears tickle and flicker. Multiple speeds of vibration and wave motion take you from teasing to intense, they're changed easily with push buttons on the easy grip base that features LED lights. You can enjoy this vibe in or out of water, as it's completely waterproof once the battery cap is securely tightened. Use a water based lube with the Passion Wave for maximum enjoyment. Takes 3 AA batteries (sold separately).
Specifications
Length - 10"
Insertable length - 5 1/4"
Girth - 5" around
Width - 1 1/2"
Material - Thermoplastic elastomer, plastic
Powered by - 3 x AA batteries
Special features - Thrusting motion, multi-speed, waterproof, E-Z load battery pack
Color - Pink
When it comes to choosing a vibrator, you always tend to choose the one that would give you sensations completely unmatched in comparison to what you had earlier got in your solo sessions. Lena Rabbit Vibrator comes with a similar promise for girls who would love using it. Pink in colour and very stylish in design, this advanced rabbit vibrator is made of silicone that makes it skin-friendly and smooth to use as well. 6 inches in length and 2.5 inches in width, it stands as a perfect erotic gadget for clitoral stimulation. As it comes with a vibrator attached, it runs on two AA batteries. Some warm water and a cleaning agent will do a good job in cleaning it.
Product: Lena Rabbit Vibrator
Category: Rabbit vibrator
Material: Silicone
Colour: Pink
Size: 6 x 2.5 inches (L x W)
Special feature: Comes with a vibrator attached for more stimulation 
Length=8.5 inches

Insertable= 4.5 

inches

Dia=1.4 inches

Vibrator= Multispeed

Sound= Sexy

Material= Fully Silicone