

SEXBY RABBIT VIBRATOR RV-036
| | |
| --- | --- |
| Color | VIOLET |
| Total Length | 7.6 |
| Insertable Length | 3.5 inches |
| Dia | 3.5 |
| Material | SILICONE |
| Rechargable | NO |
| Wireless | NO |
| No. of Battery Required | 2 |
| Size of Battery | AAA |
| Vibrating | YES |
| Vibrating Mode | 10 MODE VIBRATION |
| Weight | 87 gms. |
| Thrusting | NO |
| Imported From | U.K |
Secure payment
Delivery & Return Policy

Privacy Policy
Have you ever used a rabbit vibrator? Did you ever really enjoy a lovemaking session by getting varying sensations in your genitals? Now get ready for some unlimited excitement with your partner by taking help of this Sexby Rabbit Vibrator. With a length of 14 cm and width of 11 cm, this rabbit vibrator is perfect for those deep penetrations. As you will allow the vibrations to shake your G-spot, you will be left wild and crazy. As it is made of good quality silicone, it is very easy to clean. However, it is always advisable to wash the product as thoroughly as possible and then use it. As it comes equipped with a powerful vibrating motor, is gets powered by two AA batteries.
Product: Sexby Rabbit Vibrator RV-036
Category: Rabbit vibrator
Material: Silicone
Colour: Purple
Dimensions: 14 x 11 cm (L x W
Data sheet
Color

VIOLET

Total Length

7.6

Insertable Length

3.5 inches

Dia

3.5

Material

SILICONE

Rechargable

NO

Wireless

NO

No. of Battery Required

2

Size of Battery

AAA

Vibrating

YES

Vibrating Mode

10 MODE VIBRATION

Weight

87 gms.

Thrusting

NO

Imported From

UK
Customers who bought this product also bought:
Clit Stimulation With Bullet Vibrator
Product Description
Unique in design, this revolutionary product is the first ever vibrator that can be used while making love. The innovative design allows for both external clitoral and internal g-spot stimulation for women engaging in both solo and partner play. The We-Vibe is hands free, strap free and wireless. Created from 100% medical grade silicone, it's soft, comfortable and easy to use. 9 exciting new modes designed to provide maximum climatic stimulation (Low Speed - High Speed - Throb - Wave - Pulse - Ramp - Tease - Ascending - Cha-Cha). We-Vibe II makes it even easier "to get turned on" with a new intuitive push button easy to find on the We-Vibe II's nose. With just one push you're turned on to Low Speed, push again and you move from one sensual style to the next. Finished with your We-Vibe II? Simply hold down the push button for two seconds to turn it off. Did you forget and fall asleep? Don't worry, your We-Vibe now has an automatic shut-off, indicating its time to charge. At the push of a button, get turned on again with your favourite vibe within an hour of use. The We-Vibe II remembers your last vibration mode, and resumes play!
16 other products in the same category:
Length=8.5 inches

Insertable= 4.5 

inches

Dia=1.4 inches

Vibrator= Multispeed

Sound= Sexy

Material= Fully Silicone
The In Style is a high tech, powerful rabbit vibrator. The control panel has one set of buttons for vibration rhythm, and one set for the squirm function. The In Style features 5 dynamic rhythms of vibration and 5 dynamic rhythms of squirming and pulsating. You are able to reverse the direction of the rotating pearls.
9 inch long and 5.5 inch insertable . Made from 100% silicone. 
• Strong Gyrating Pearls
• Ultimate Clit Tickler
• Water Resistant
• 5 Rhythm Clit Stimulator with Speed Control
• 5 Rotating Patterns with Speed Control
Requires 4 x AAA batteries (not included).
Spend quality time with the horniest rabbit ever and leave your genitals stimulated unlike what you had done till date. This modern Pretty Love Rabbit Vibrator has been designed to stir the female genitals so as to leave the user wild and crazy. It is an incredible erotic product that would do a pretty good job while you are in the midst of foreplay or a solo performance. In other words, this would be a completely new addition to your collection of sex toys and would bring on happy times for you and your partner inside the bedroom.
Have a look at some of its features:
·         Made of good quality silicone and ABS
·         Multiple settings
·         Hassle-free operations
·         Shaft enabled
·         Purple in colour
·         Mute design
·         Runs on powerful dual motors
·         Includes 30-vibrating functions
·         2 AAA batteries
·         Light in weight
·         Compact in size
Easy to clean and maintain, this Pretty Love Rabbit Vibrator will no doubt be a smart choice for women who desire something more during their intimate hours. If you had used vibrators till date, this one would surely bring you a new experience. Get it now at a very affordable price online and add loads of thrills to every performance.
Rabbit Vibrator Clit Soother
Now be ready to have a super satisfactory solo session with this powerful and trendy Rabbit Vibrator Clit Soother. Made of pure quality silicone, it is high on durability and will, therefore last long, no matter how frequently you make use of it. What the user will love is its trendy look in blue and grey shade. Furthermore, this 10-inch sex toy comes with a powerful vibrator attached that makes it an ideal clit soother for women. Equipped with multi-speed vibrations, it brings varying sensations on one's genitals, thereby bringing absolute satisfaction throughout the session.
The Rabbit Vibrator Clit Soother is easy to clean with some warm water and a mild cleaning agent. It operates on two AAA batteries and is USB rechargeable as well. The USB cord will be provided along with the product.
Product: Rabbit Vibrator Clit Soother
Category: Rabbit Vibrator
Material: Silicone
Colour: Blue and Grey
Size: 10 inches
Function: Designed to trigger clitoral stimulation in women
Battery: 2 AAA batteries
Description : Ai Qini Yiqi Ni - transfer beads stick.
  
Silicone material

3 AAA batteries

3 segment rotation mode

7 segment vibrate mode

Upscale gift box packaging

Mute waterproof
A pure silicone outer body and stylish ergonomic design makes this the most beautiful and attractive of products.
Even more impressive, the touch sensitive control gives you the ability to command the intensity of vibrations.
Customize the vibration patterns using the touch responsive panel for tailored G-spot stimulation. Simply press and hold the 'Middle' button during any setting to switch your vibe from standard controls to the touch setting.
This Alvin rabbit vibrator has a curved, bulbous head to massage your G-spot and rabbit vibrator for clitoris stimulation.
Hygienically superior medical grade silicone.
Highly imaginative & ergonomic design, quiet yep powerful Rabbit vibrator 3 speeds vibrating, 3 speeds pulsating and 1 speed escalating and easy to use touch buttons.
Whether you are single or a couple, this rabbit vibrator will quickly become your favorite playmate.
Plus:
Easy to use
Easy to clean
Hypoallergenic
100% medical grade silicone
For comfort always use a lubricant and remember to clean your sex toy before and after each use with our antibacterial cleanser and disinfectant for erotic accessory Sensations Plus, when sensuality means safety!
Characteristics:
Material: 100% silicone and ABS
7 modes of vibration of vibration 3, 3 pulses, one that intensifies
Latex free
Phthalate Free
Hypoallergenic
Scentless
Waterproof Waterproof
Length: 24cm, length
Penetrating 14 cm
Diameter: 3,7 cm
Available colors: fuchsia
Rechargeable with USB wire
Articles fabricated silicone should not be used with silicone lubricants.
For obvious reasons of hygiene, all products coming into contact with the intimate parts can be a return if the packaging is opened and / or unsealed.
Want to tickle your genitals as wildly as you can? Want to feel something special like you had never felt before? Get the Pretty Love Rabbit Vibrator and you will just love tickling your G-spot. Hot, seductive and unique, this rabbit vibrator comes with a shaft so as to trigger wild sensations on the female genitals.
So, let's take a quick look at some of its special features:
·         Smooth to touch
·         Silicone body
·         Purple in colour
·         User-friendly
·         Easy to operate
·         Shaft enabled
·         Powerful motor
·         2 AAA batteries
·         Light in weight
Whichever lovemaking style you are willing to try, be it foreplay or solo, this Pretty Love Rabbit Vibrator is surely going to make you horny in no time. Safety is guaranteed with this product and your girl will not have any problems on her sensitive genitals. So, don't worry about its usage and operation and buy it online at a very affordable price today.
Description : Ai Fei Effie - rods .
  
Built-in high -quality motor 2 ,

520 mA high-capacity lithium battery ,

7 segment vibrate mode ,

160 days long standby

High-end gift box packaging,

The included USB charging cable, fine collection of bags.
Features:
.2 Piece Set: Clitoris Brush and Breast Stimulator
.These unique attachments will turn your wand into a versatile and impressive tool to explore and discover new sensations
.Each attachment comes with its own unique shape, allowing for stimulating your chest,G-Spot, clitoris and other hot body parts
.Clitoris Brush is perfect for stimulating G-spot and clitoris at the same time, you can use it with AV stick or jump eggs
.Breast Stimulator with dual head design can be better to pat your breast or other right erogenous zone
.Different shapes have different stimulation feeling, special design for female
.Simply attach these sweet attachments to your favorite Mid-size massager wand and place it in the area you wish to stimulate for a thrilling ride indeed!
ROTATING STEEL BALLS
FEATURES
Super Rabbit Vibrator Colour               :     Skin
Super Rabbit Vibrator Material           :      Jelly
Super Rabbit Vibrator Functions        :    Mutti-Speed Vibrating, Rotating Head and Beads
Super Rabbit Vibrator Insertable       :         6"
Super Rabbit Vibrator Total Length   :        10"
Super Rabbit Vibrator Circumference:        4"
Flexible Sex Toy?
Yes, Shaft
Waterproof Sex Toy?
Splashproof
FULL DESCRIPTION - Super Rabbit Vibrator
The Super Rabbit Vibrator has a thicker shaft than other standard rabbit vibrators. The 7" shaft is made from clear jelly with a sparkle effect. The rabbit vibrator comes with slide controls for vibration and rotation and comes complete with a clitoral stimulator for extra fun. This vibrator is ideal for the person who wants a little bit more fun. Takes AA batteries.
Please note due to the nature of this product once opened it cannot be returned.
tem Description
This is Vibration and Rotation Massager, which is essential for finding the G-spot to reach orgasm quickly. It can realize the sexual desire for women.Features: * G-Spot vibrator, vibration and rotation massager * An ideal product to meet women's sexual demands * Material: ABS + TPR * Length: 18cm * Width: 3.5cm * Battery: 2 x AAA batteries (not included) * Color: random color Package includes: * 1 x G-Spot Vibrator 19957
Have a look at this modern Pretty Love Rabbit Vibrator and tickle your genitals in the best manner like you never dreamt of. Incredible in terms of sensations, t would complement your foreplay or solo, whichever you choose to go with. Pretty Love York rabbit vibrator would surely be a trendy addition to your compilation of sex products and would bring on happy times for girl during her lonely hours.
Have a look at some of its features:
·         Made of good quality silicone
·         Multiple settings
·         Hassle-free operations
·         Shaft enabled
·         Purple in colour
·         Mute design
·         Powerful motor
·         2 AAA batteries
·         Light in weight
·         Compact in size
What's best about Pretty Love York rabbit vibrator is its hassle-free maintenance. Just take some water and mild detergent and you will be able to clean it with no effort at all. You can now purchase it at a very economical price online and thereafter take your daily performance to a new level.
Experience waves of pleasure with a totally new take on vibration. The Passion Wave Jack Rabbit has the intensely pleasurable rabbit style, with simultaneous penetration and clitoral stimulation with a twist. Instead of plain vibration and pulsation, the soft jelly rubber shaft of the Slimline moves in smooth, undulating waves for an incredible thrusting sensation, while the powerful clit stimulating rabbit ears tickle and flicker. Multiple speeds of vibration and wave motion take you from teasing to intense, they're changed easily with push buttons on the easy grip base that features LED lights. You can enjoy this vibe in or out of water, as it's completely waterproof once the battery cap is securely tightened. Use a water based lube with the Passion Wave for maximum enjoyment. Takes 3 AA batteries (sold separately).
Specifications
Length - 10"
Insertable length - 5 1/4"
Girth - 5" around
Width - 1 1/2"
Material - Thermoplastic elastomer, plastic
Powered by - 3 x AA batteries
Special features - Thrusting motion, multi-speed, waterproof, E-Z load battery pack
Color - Pink
HIGHLY RECOMMENDED!! TRY IT!

Double Enjoy With This High Qulaity Silicone Vibrator

Ideal For Foreplay

30 Functions Of Vibration,Pulsation & Escalation

Silent And High Quality Vibrator Motor

Smooth, Unscented, Phalate Free

Easy Push Button

Use With Partner Or Solo

Easy To Use And Clean

With Refresh & Blood Circulation Function

Water-Proof Vibrator

Luxurious Body Safe Silicone

100% Silicone

Colour Not Fix

Free Battery Included
Elegant vibrator rampant in color lilac and white's unique quality that can offer a highly irresistible thanks to its rampant rabbit clitoral stimulation.

It will give you no doubt an unforgettable ride, at the same time that you enter inside you, making you even more deeply feel their vibrations, massaging your interior.

Pretty Love is synonymous with quality.
        It has 30 different vibration different impulses, making a perfect vibrator for you!
        Silicone 100% high quality FDA approved phalatos-free
        Ergonomic
        Very silent
        Submersible
Powered by two AAA batteries which are not included.
Dimensions: 20.4 cm x 3 cm.
Includes practical fabric pouch to store the product after use!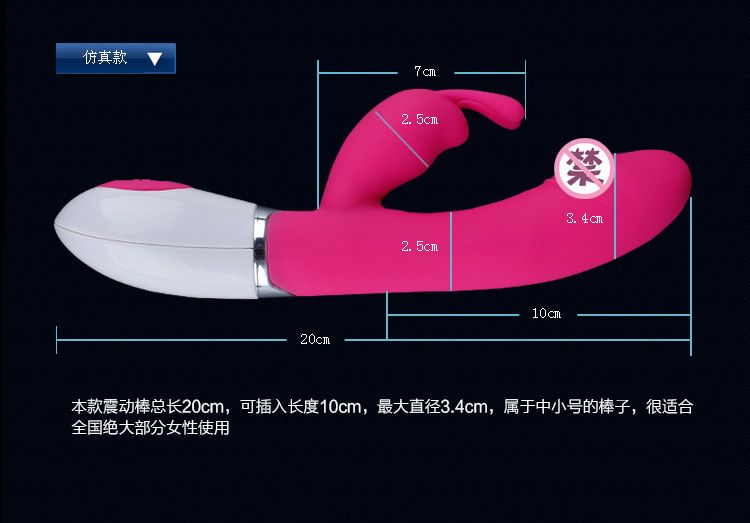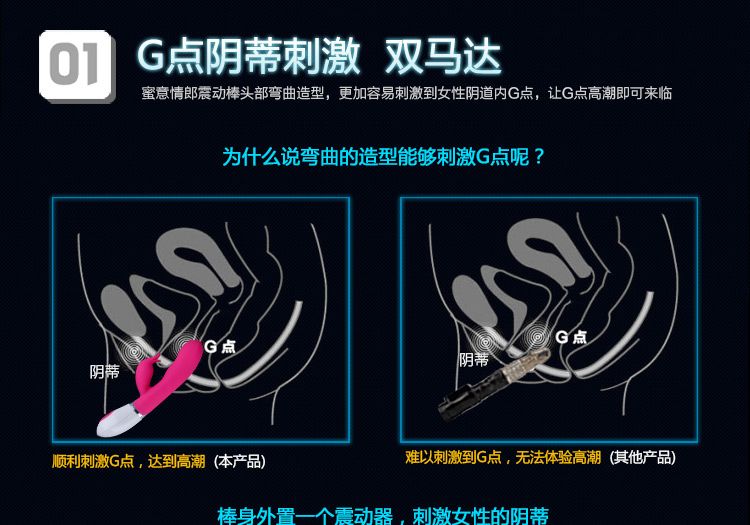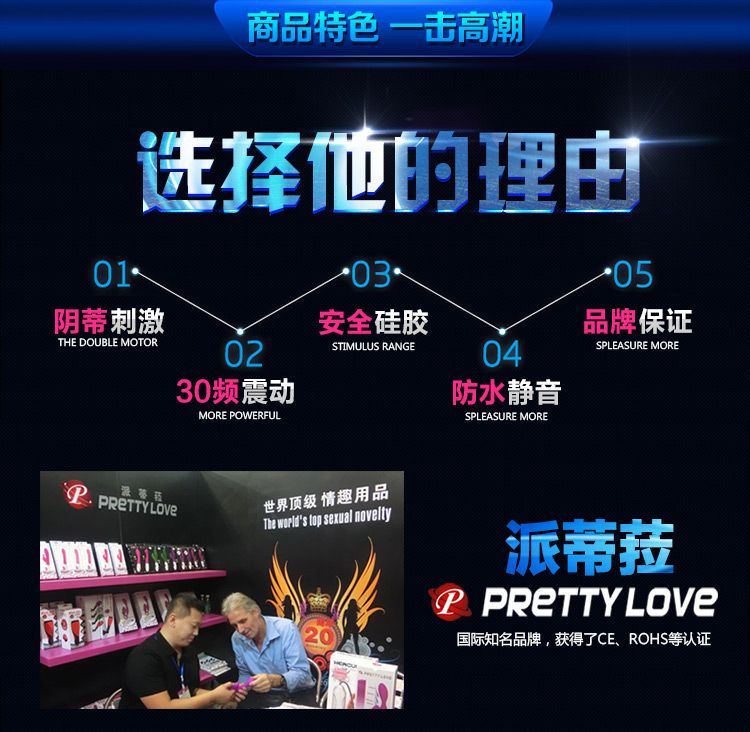 Item Type:

Vibrators
Brand Name:

Sexy Candy Shop
Material:

food grade silicone
Size:

10 speed
Model Number:

vibrators for women -dgzzq02
power supply::

2 AAA bateries
hardness::

Perfect balance between hardness and softness
Color::

pink and blue
G.W: :

100g
Number of vibration modes::

10
Type::

Female Vibrator
 

10 Function Dual Vibrators With Rabbit Clitoris Stimulate Penis Sex Toys For Couples And G-spot Rolling Dildo Vibrador For Women

Type: Female Vibrator

Number of vibration modes: 10

Waterproof: Splash waterproof

G.W: 100g

Intensity: Adjustable

Control: LED controller

Power supply: 2 AAA batteries (not including)

Color: Pink and blue

Material: Food grade silicone

Hardness: Perfect balance between hardness and softness

we will not send the original box for saving the shipping weight, if you need box you need to click here to buy: original box
Now let a cute naughty rabbit play and tickle your genitals like you had never felt something like this earlier. Bring home the Pretty Love Rabbit Vibrator and you will have your G-spot tickled. It is no doubt one of the most amazing sex toys that includes a shaft to bring wild vibrations on one's G-spot. In this process, one will have sensations and get seduced in no time. It is completely a new type of device that would assure pleasurable hours for you as well as your partner.
So, let's take a quick look at some of its special features:
·         Smooth to touch
·         Satin-finish silicone body
·         User-friendly
·         Easy to operate
·         Shaft enabled
·         Runs on dual motors
·         30-vibrating functions
·         2 AAA batteries
·         Light in weight
Be it foreplay or solo, this Pretty Love Rabbit Vibrator is going to be a perfect pick for women who want to stay highly orgasmic. If you are feeling horny, just lie on your bed and apply it gently on your genitals for maximum pleasure. Don't worry about its operation as it is smooth and safe as well. Buy it online at a very affordable price and make your bed hours more engaging with your partner.